SA-GC Club lifts All Pakistan Federal Inter Club Basketball Championship 2019 trophy
SA-GC Club beat Cobra Club by 76-48 score line to claim the title of All Pakistan Federal Inter Club Basketball Championship 2019 which successfully concluded at Shahbaz Sharif Sports Complex in Rawalpindi.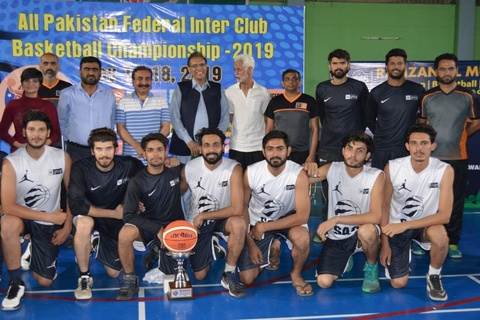 In the semi-finals played earlier, SA-GC Club Lahore defeated Bulls Club by scoring 59 points against 46 and Cobra Club defeated Raptors Club with only one point difference with a final score of 52 against 51.

Taimoor was the top scorer for SA-GC with 18 points followed by Saboor with his 10 accurate shots while Irfan scored 12 points for the Bulls team.
Waqar Amin was the top scorer for Cobras Club followed by 12 by Ahmer. Farhan scored 20 points followed by Sikanadar and Usman with 08 each.
The final match was a battle between SA-GC Club and Cobra Club which proved to be a thrilling contest as both teams played gallantly but SA-GC turned out to be the winner of the final game and now stands the champions of the championship. SA-GC team scored 76 points against 48 by Cobra Club.
As expected, Taimoor was the top scorer with 20 points for the winner team, followed by Saboor's 11 successful shots and Waqar and Ahmer both scored 12 points each followed by Qamar with a total of 9 points.
Mr. Tariq Mahmood Malik Regional Advisor, Office of the Ombudsman Punjab was the chief guest, who witnessed the final winner being decided along with Mr. Ejaz Rafi Butt, President Federal Basketball Association, Mr. Waheed Babar, DSO Rawalpindi and Mr. Riaz Malik, former international player and National Basketball Coach. Ouj E Zahoor, General Secretary Federal Basketball Association thanked all participating teams, Referees and Officials, Rawalpindi Sports Department and the guests.
Federal Basketball Association in collaboration with District Sports Department Rawalpindi organized the All Pakistan Federal Inter Club Boys Basketball Championship into the current year, that featured a total of 20 teams from the region, players from whom were seen competing with all their talent to win top honors in this mega basketball tournament.