9 times champion, Nadir Magsi retains 14th Cholistan Jeep Rally title
Yet again Nadir Magsi claimed the crown and retained his title in the 14th Cholistan Jeep Rally which concluded successfully at Bahawalpur, Bahawalnagar & Rahim Yar Khan.
14th Cholistan Jeep Rally
Bahawalpur, Bahawalnagar & Rahim Yar Khan.
Nadir Magsi completed the 467 KM long desert track in 4 hours 30 minutes and 35 seconds and was followed by Zain Mehmood who stands on the 2nd position in Prepared Category A Race with the time of 4 hours, 39 minutes and 26 seconds. Sahibzada Sultan managed the 3rd spot with timing of 4 hours, 42 minutes and 55 seconds.
In the Prepared B Category Race, Owais, Asad and Zafar stands the winners on first three positions while Prepared C Category Race witnessed Zahir, Gohar and Noor Ullah claiming the 1st, 2nd and 3rd spots. Zafar, Biewragh and Mehboob won the Prepared D Category Race.
This mega motor event was organized by The Tourism Development Corporation Punjab (TDCP) into its 14th successful edition and was hosted by Cholistan News. All the adventure-hungry car racers, including female riders registered themselves to join this rally race.
Desert Rally since it was started in 2005 by the Tourism Development Corporation of Punjab (TDCP) in Cholistan Desert has become Pakistan's Biggest Motorsport Event. Every year conventionally the rally consisted of a challenging track for the rally drivers. More than 100 enthusiastic rally drivers from around the world participated in this mega event.
Visit of Derawar Fort, Camping in Desert with Saraiki Songs, Pakistan's Biggest Jeep Rally TDCP, Camel Ride, Fireworks and much more were arranged for the participants of this rally race.
For the very first time, this rally race was covered live by Cholistan News through which it was much easier for the spectators present at the time as well as the ones at home to watch this exciting race live in its each phase.
Following are the other category winners: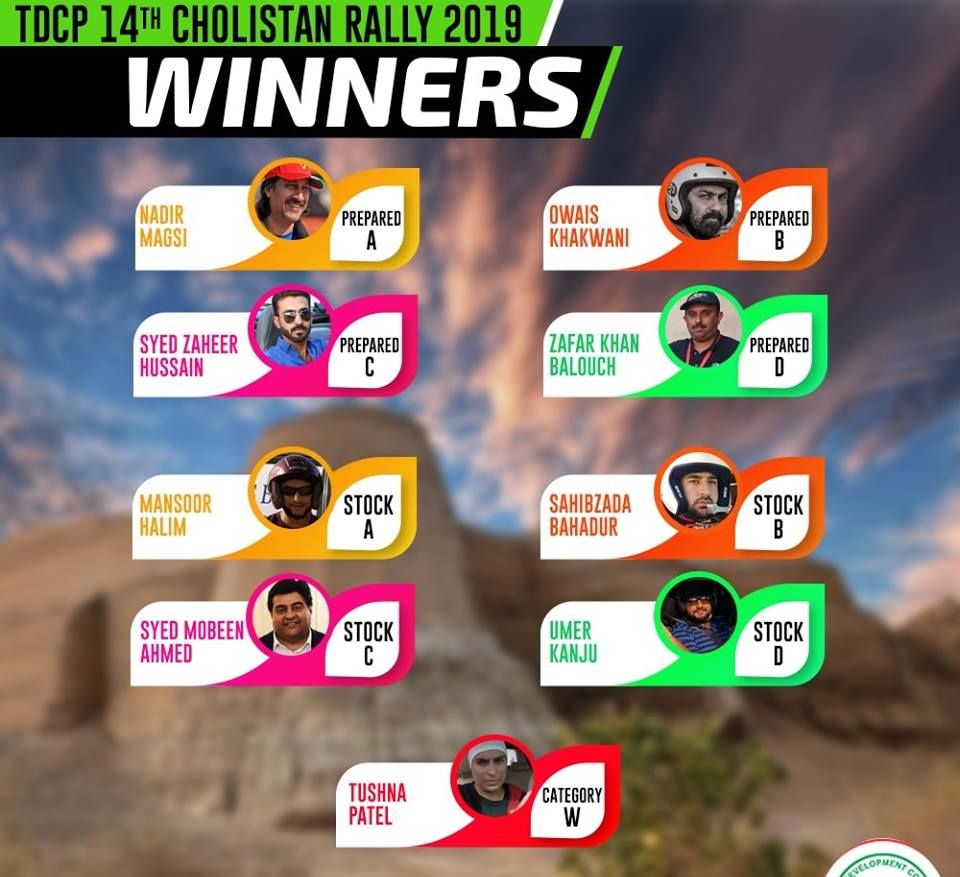 At the prize distribution ceremony, Commissioner Bahawalpur Division, Nayyar Iqbal, who was the chief guest, gave away trophies and cash prizes to the position holders of different categories.