National Basketball Championship 2019 from 26th February
A total of eight (8) teams will participate in the 2019 National Basketball Championship which will roll into action from 26th February and will continue till 2nd March at Hamidi Hall, Pakistan Sports Complex in Islamabad.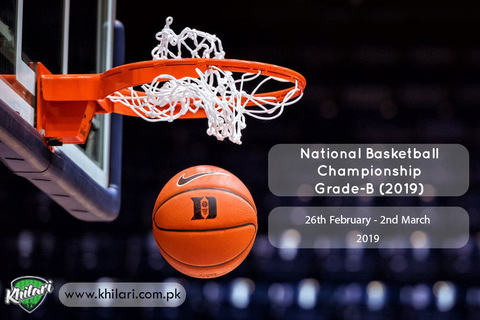 National Basketball Championship Grade-B (2019)
Hamidi Hall, Pakistan Sports Complex
Federal Basketball Association is all set to host the Divisional National Basketball Championship - Grade B from February 26 to March 02 in Islamabad that will feature a total of eight (8) teams belonging to different areas of the country.

Participating teams include: Islamabad, Karachi, Rawalpindi, Kohat, Mardan, DI Khan, Mirpur Khas and Sargodha. Players from their respective teams will be seen competing against each other so as to win the ultimate title of this national championship.
Two-day trials to select Karachi basketball team for participation in the National Basketball Championship 2019 - Grade B were also held from February 9 to 10 at Arambagh Basketball Courts for which a selection committee headed by international player Muhammad Yaqoob was formed to witness the trials with other members of the committee being Fawad Ali, Zafar Iqal, Ghulam Rasool, Ashraf Yahya and Tariq Hussain.