Haier Hockey Series Open Pakistan 2018 starts today
The Hockey Series Open (HSO) begins on Monday (today) with a match between Afghanistan and Uzbekistan at National Hockey stadium, Lahore.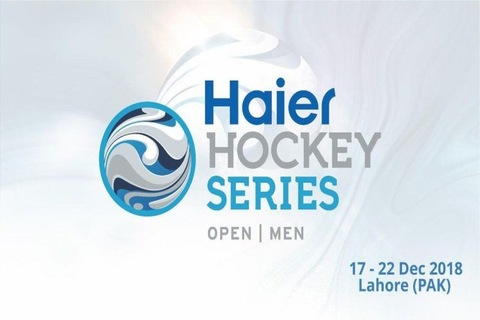 Haier Hockey Series Open Pakistan 2018
National Hockey Stadium, Lahore
Pakistan will be hosting one of the first rounds of Hockey Series Open at National Hockey Stadium, Lahore from December 17 to 22.
The Hockey Series Open (HSO) begins on Monday (today) with a match between Afghanistan and Uzbekistan on 12:00 pm (PST) at National Hockey stadium, Lahore.
A minimum of 15 teams will qualify for one of three separate Hockey Series finals. Each of the Series finals will have eight teams playing in them and will take place throughout the world, with berths into the Olympic Qualification events up for grabs.
The teams include Uzbekistan, Kazakhstan, Afghanistan and Nepal along with a team from Pakistan.
Pakistan national team won't be participating in the event as the greenshirts has been selected among the nine countries for FIH Pro League, starting from January 2019.
Therefore Pakistan guest team will take part in the round of the series. The points earned by Pakistan won't be counted towards deciding the positions in the competition. But the other four teams will contest to qualify for the final round of the Hockey Series Open.
The Pakistan players include goalkeepers: Hafiz Umair, Usman, Abdul Rehman, Taimoor Sheikh, Ali Raza, Usman Malik.
Defenders: Usman Bashir, Sami Ullah, Jahangir Khan, Hassan Anwar, Kamran Riaz, Rizwan, Usman Tariq, Mehmood Hassan, Waqas Ahmed, Essa Khan, Salman Shaukat, Abid Bhatti, Mohibullah, Zahid Ullah, Farhan Younas, Qazi Isfand Yar, Sultan Amir.
Halfback: Ali Raza, Hasnain Babar, Junaid Rasool, Omar Bilal, Yasir, Muhammad Umer, Faizan, Shameen Munir, Mubashir Jibran, Ali Raza, Asif Hanif, Ghazanfar Ali, Shoaib Shabbir, Sikandar Mustafa, Asim Jonty, Rehan Ashraf, Sunil Mehmood, Ihtisham, Mazhar, Mehran Rasheed, Rizwan, Osama Bashir, Yasir Ali, Sohail, Hasnain Solangi, Sohail Manzoor.
Forwards: Shajeeh Ahmed Saeed, Muhammad Amir, Bilal Qadir, Khizar Akhtar, Ali Hussain, Umar Hamdi, Muhammad Dilber, Shah Fahad, Zulqarnain, Umer, Qazi Muazzam, Naveed Alam, Abdullah Bukhari, Zakirullah, Hammad Anjum, Abdullah Babar, Ahmed Ali, Roman Khan, Mohsin Khan, Abdullah, Muhammad Anees, Rashid Sardar, Nabeel Hussain, Arshad Liaqat, Muhammad Abid, Zeeshan Alvi, Nohaiz Malik, Amir Ali, Shahbaz, Abdul Moiz, Amjad Rehman, Awais ur Rehman, Haseeb Aslam, Usman Nazim, Mohsin Sabir, Zeeshan Bukhari, Qamar Bukhari, Fahad Ullah, Muhammad Asif, Zain Ejaz, Abbas, Akbar Ali, Waseem Akram, Hasan Saleem, Faraz Dar, Asad Mehmood, Sohail Anjum, Bilal Mehmood, Shehryar, Waseem Tariq, Naveed Iqbal, Abdul Rehman, Ammar Ali, Zubair, Rizwan Ali, Hamza, Abdul Manan, Babar Bashir, Sajawal, Noman Khan, Fazeel Khan, Arsalan Haider, Faheem Khan, Hammad Khan and Faisal Rashid.
The officials comprise Qamar Ibrahim (manager), Kamran Ashraf (coach), Adnan (Physiotherapist), Asim Abbasi (video analyst) and Sameer (assistant video analyst).