Sohail Abbas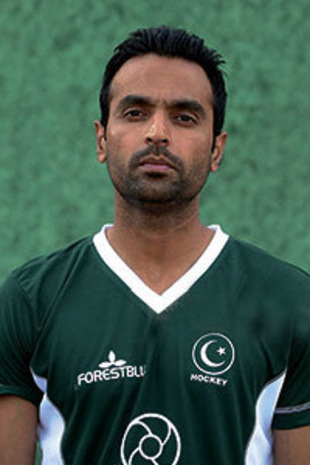 Achievements
Asian Games
Gold medal –in 2010 Guangzhou
Bronze medal – in 1998 Bangkok

Afro-Asian Games
Silver medal – in 2003 Hyderabad

Commonwealth Games
Bronze medal – in 2002 Manchester
Hockey Champions Challenge
Silver medal – in 2009 Salta
Sultan Azlan Shah Cup
Gold medal – in 2000 Ipoh
Gold medal – in 2003 Ipoh
Silver medal – in 2004 Ipoh
Silver medal – in 2011 Ipoh
Hockey Asia Cup
Silver medal – in 1999 Kuala Lumpur
Silver medal –in 2003 Kuala Lumpur
Silver medal – in 2009 Kuantan
Champions Trophy
Silver medal – in 1998 Lahore
Bronze medal – in 2002 Cologne
Bronze medal – in 2003 Amstelveen
Bronze medal – in 2004 Lahore
WORLD RECORDS:
• Highest goals scorer in field hockey with 348 goals.
• Highest number of goals in a calendar year: 60 goals in 1999
• Fastest to score 100 goals in international hockey: two years six months and 18 days.
• Fastest to score 200 goals in international hockey: five years five months and 16 days.
• He has scored one double hat trick and 21 hat tricks in international hockey: a record unmatched in international field hockey.
• Highest number of goals in a single edition of Asia Cup
It is interesting to note his tally of 59 goals in 2004 is only one goal less than his record of 60 in 1999.
OTHER RECORDS & FEATS:
• Sohail's tally of 16 goals in the 1999 Asia cup is a record for a single edition of that competition (which he shares with compatriot Hasan Sardar).
• He is Pakistan's all-time top scorer in Olympics with 19 goals from two Olympics.
• For a single edition of Olympic games also, Sohail's tally of 11 goals in the 2004 Olympics is a Pakistan record.
• For World Cup also, Sohail is Pakistan's overall top scorer with a total of 16 goals from three appearances.
• He is Pakistan's top scorer in the elite champions trophy as well with 40 goals. In fact, it was also the highest overall tally for this tournament till this year's Champions trophy. It was broken by another great drag flicker of this age, Holland's Taeke Taekema.
• In a single edition of the champions trophy also Sohail holds Pakistan's record with eight goals (2001 champions).
• Overall top scorer of the 2004 Olympics with 11 goals.
• Joint overall top scorer of the 2002 World Cup with 10 goals.
Sohail Abbas's Profile
Age (Years): 48
Sport: Hockey
City: Karachi
Weight(Kgs): 80
Teams:
Pakistan Cricket(National Team)
Habib Bank
WAPDA
Bank Simpanan Nasional
Hyderabad Sultans
HC Rotterdam
KL Hockey Club
Biography:
Sohail Abbas is the former captain of the National Hockey Team. He can be considered one of the optimum hockey players from the country. Sohail Abbas is the topmost goal scorer in international hockey with 348 international goals.
He has been known as the King of the Drag Flick. Sohail Abbas also holds the world record for the highest number of hockey goals in a calendar year – he scored 60 goals in 1999.
Sohail Abbas retired from Hockey in 2012 after 14 years of playing hockey.
Born at Karachi's Holy Family Hospital, Soldier Bazaar on 9 June 1977, Sohail is a former pupil of Karachi's Habib Public School, the school of many other hockey stars. In fact, it has been rightly remarked that hockey is taught as a subject in this school.
He came from a sporting family; his father, Syed Iftikhar Hussain, was a former first-class cricketer. He represented Karachi as well as Pak Crescent Club, famous for producing Zaheer Abbas. Sohail is eldest of three brothers. Raheel Abbas, his younger one, is an IT professional and a Professional / First Class Cricketer.