Pakistan vs Malaysia | Hockey Men's World Cup 2018 | 5th Dec | 6:30 pm (PST)
Four times World Champions Pakistan will face Malaysia on 5th December at 6:30 pm (PST) in the Odisha Hockey Men's World Cup Bhubaneswar 2018 at Bhubaneswar, India.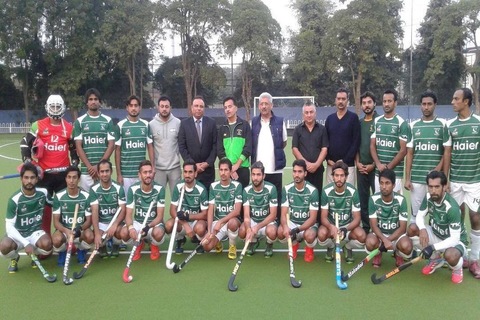 Odisha Hockey Men's World Cup Bhubaneswar 2018
Bhubaneswar,India
Four times World Champions and 13th rank team Pakistan will face Malaysia on 5th December at 6:30 pm (PST) in the Odisha Hockey Men's World Cup Bhubaneswar 2018 at Bhubaneswar, India.
The Asian sides 13th rank Pakistan and 12th rank Malaysia have lost their opening games, Pakistan 0-1 to Germany and Malaysia 0-7 to Holland.
It will be a tall order for Pakistan and Malaysia to get some points from their last pool games against Holland and Germany respectively. As per this World Cup's format, only the winner of the pool gets direct qualification for the quarter final. Teams finishing second and third would play cross overs with the third and second from another pool. All this makes the Pak/Malaysia encounter vital for both the sides.
The 12th rank Malaysia won the fourth position match in Hockey World Cup 1975. But now team Malaysia, over the years, has shown massive loads of talent and commitment that has seen the side evolve to what the world knows of today.
With a significant number of players considerably young in age, Malaysia is put in a position that allows them to build a side for the future. And the upcoming 14th edition of the World Cup is perfectly placed for a side to take on the best in the world.
They have met four times in the World Cup with Pakistan winning each time.
1973: Pakistan beat Malaysia 4-2
1975: Pakistan beat Malaysia 2-1
1978: Pakistan beat Malaysia 3-0
1998: Pakistan beat Malaysia 7-2
With stars such as Faizal Saari, Tengku Tajuddin and Kumar Subramaniam and in light of their recent performances in the calendar year, Team Malaysia would be feeling confident about their endeavors at the World Cup.
Earlier, Jeroen Hertzberger scored a hat-trick to help last edition silver medallist Netherlands spank a hapless Malaysia 7-0 in a lopsided opening Pool D encounter at the ongoing Men's Hockey World Cup 2018.
Their 3rd place finish at the 5th edition of the Asian Champions Trophy would be a great morale booster under their newly appointed Head Coach Roelant Oltmans.

Their performance at the Asian Games also impressed many as they finished the event with a Silver Medal. Having only lost to Pakistan in their Pool matches, Malaysia should great resolve and commitment to outshine the remaining opponents in Jakarta.
Their Semi-Final win against India after the Shootout was proof of the Malaysian team's spark that could take on and win from the very best. After having scored six goals in the final, the match was decided via another Shoot-Out.

Earlier, four-time champions Pakistan produced a lion-hearted performance before going down 0-1 to Olympic bronze medalist Germany in their opening Pool D match of the men's hockey World Cup 2018.
The Pakistan hockey team historically has been the most successful side in the history of the World Cup. With an astounding 4 titles against its name, Team Pakistan would be likely to inspire from their rich legacy and heritage in the hockey world.
Pakistan, a once dominant force at the World Cup, is now a team with an interesting mix of experienced players as well as new promising talent.
In the first eight editions of the World Cup, Pakistan reached the final on 6 occasions and lifted the trophy for a total of 4 times. They won their titles in Barcelona 1971, Buenos Aires 1978, Mumbai 1982 and Sydney 1994.
In the recent Asian Champions Trophy held in Oman earlier this month, Pakistan were declared Champions alongside India.
Having won a total of 53 matches in 84 outings, Pakistan has the best overall record at the Hockey World Cups. A record that would give great heart and confidence to the new generation of Pakistan Hockey.
Two times consecutive World Champions Germany won their titles in 2002 and 2006 where they beat Australia to rule the world as the Hockey Champions.