15-member Pakistani squad named for Asian Sevens Women Rugby Trophy 2018
15 women Rugby players will represent Pakistan in the 2018 Asian Sevens Women Rugby Trophy which will be staged from 20th to 21st October in Brunei.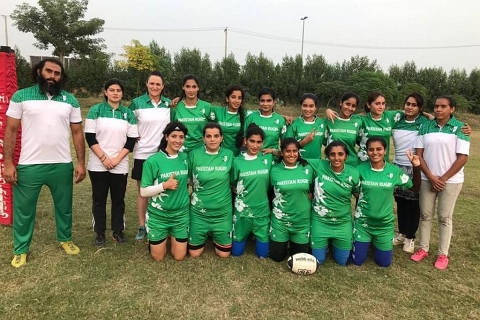 The Asia Rugby Women's Sevens Trophy will take place on October 20-21 in Brunei which is featuring 10 teams who will be seen competing in this annual event and all the 10 teams will be looking to be a part of the top sevens competition in 2019 and play a part in Olympic qualification.
Last year South Korea named the victory of Asian Sevens Women Rugby Trophy 2017 by trashing India 29-0 in the final. The championship will be having its opening matches between the host team Brunei to take on last year's host country Laos.
The 10 participating teams are divided in two pools each pool consisting of 5 teams in which Pakistan is grouped with 4 other nations in pool B.
Pool A:
Brunei, Laos, Indonesia, Malaysia and Guam.
Pool B:
India, Pakistan, Nepal, Philippines and Uzbekistan.
Last year Pakistan made its international debut and finished at 6th spot by defeating Nepal 17-7 and recorded it's first-ever women's international win.
Following is the 15 member Pakistani Women Rugby Squad:

1. Javeria Hasan - Captain
2. Wajiha Karim
3. Irum Shahzadi
4. Nimra Maryam
5. Sana Hanif
6. Raheela
7. Ammara
8. Zahida Parveen
9. Amna Saraj
10. Bushra Rasheed
11. Rimsha Khan and
12. Maryum Butt
13. Hadeel Niazi - Manager
14. Susan Margaret Dawson - Coach
15. Shamaila Yaquab - Physio
New Zealand's ex-rugby player Susan Margaret Dawson, who recently joined the team as coach, said she is happy after joining Pakistan women's team which she admitted is full of talent and passion for the game.
All matches will be available live on Asia Rugby's Facebook page as the tournament will be streamed live.