17-member Pakistani team named for two international Scrabble events
17 scrabble players will represent Pakistan in two international scrabble events which are scheduled to be staged from 20th to 28th October at Torquay, England.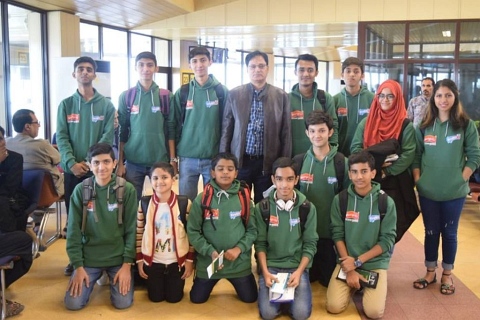 Junior World Scrabble Championship (JWSC) 2018
Torquay, England.
Mattle and TMA International yet again are proudly presenting another edition of World Scrabble Championship (WSC) and Junior World Scrabble Championship (JWSC) with the partnership of Collins Dictionary and MindSports Academy.
This year, the World Scrabble Championship returns to the UK for what is special this time in Scrabble is its 70th birthday.
From Saturday 20th October to Monday 22nd October, the World Junior Scrabble Championships will be played which is open to players aged 21 and under, it is a 24 round event played over 3 days. And then the mega event will commence from Tuesday 23rd October to Sunday 28th October, the World Scrabble Championships which will be a 35 round event played over 4 days. There will be 2 divisions. At the end, the top 8 return to play on the final Saturday in a Quarter Final and Semi-Final with the Grand Final to complete the week on Sunday 28th.
The Director Youth Program, Pakistan Scrabble Association Mr. Tariq Pervez confirmed the participation of 17 players from Pakistan who will be competing with the other players from all over the world in this mega event.
He also said that all this success has been achieved without any government support and the team did not get any financial support from the Government. But fortunately we got the support of Shangrila Foods who have kindly agreed to sponsor the team for this event as well. To which Mr. Mohsin Ali, Brand manager of Shangrila (Pvt) Ltd assured complete support to scrabble and announced that the support will continue for future scrabble events as well.
He expressed great hopes from the players at the championship as Pakistan is considered the best youth team in the world having won five of the six age categories at last year's championship in Nottingham, England.
Following are the participating Pakistani players at the JWSC:
1. Moiz Ullah Baig
2. Sohaib Sanaullah
3. Daniyal Sanaullah
4. S. Imaad Ali
5. Hassan Hadi
6. Hammad Hadi
7. Hasham Hadi
8. Taha Mirza
9. Absar Mustajab
10. Monis Khan
11. Hamza Naeem
12. Umar Naeem
13. Saim Waqar
14. Basil Khan
15. Misbah Ur Rehman
16. Muzammil Asim
17. Fatima Siddique
All the youth players along with senior players Waseem Khatri and Tariq Pervez will play in the WSC which starts right after the JWSC and the entire Pakistan team will leave on 18th October to London.