A good Day for Pakistan at Asian Games 2018-Day 12 Results
Pakistan's Baseball, Squash, Volleyball, Athletics and Hockey team shines in Asian Games 2018 being played in Jakarta, Indonesia.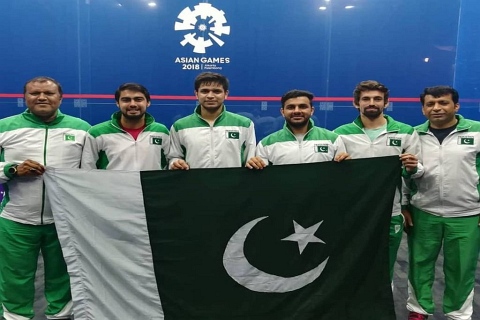 18th Asian Games 2018
Gelora Bung Karno Main Stadium, Jakarta
Asian Games are continued in full swing where Pakistan managed to win 3 bronzes medals with the hope to win Gold/silver in hockey, Volleyball, Athletics and Squash.
Pakistan achieved a season's best in athletics as they qualified for the final in men's 4x400 meter relay event with the timing of 3:08.20 minutes to claim the fifth position in heat one but qualified for the final, finishing eighth overall out of 11 competing countries in Asian Games.
Baseball men's team consolation round – match one was played between Pakistan and Indonesia today in which Pakistan went undefeated to win their second match by 10-2 that was staged at Rawamangun Baseball Field in Indonesia.
Pakistan won a thrilling Volleyball match against China by 3-2 in their semi-final for 7th to 12th position in the Volleyball competition with the final score line of 28-26, 25-19, 18-16 at the 2018 Asian Games.
4th seeded Pakistan defeated Republic of Korea by 2-0 to book berth in the semifinal of Men's squash team event.
Japan ended Pakistan's hopes of reaching into the final of hockey by beating the Green-shirts 1-0, now Pakistan will face India for Bronze in Asian games on 1st September at 3:30 pm (PST).
Pakistan Table tennis start Muhammad Asim Quershi put a shiny start as today he won the round of 64 match against Negra M Bima Abdi of host Indonesia by 4-0. Asim lost to Achanta Schanta Sharath Kamal of India by 0-4 in round of 32 match.
Muhammad Rameez lost to Muhammad Abdul Hussein of Qatar by 4-1 in round of 64.
Ruthless day for Pakistan rugby team at Asian Games as today they lost their match against Hong kong and Thailand by 5-64 and 0-43 respectively.
In Sepaktakraw Pakistan lost their match against Nepal by 2-0.