Pakistan advance into 4*400m relay final at Asian Games Athletics
Pakistan achieved a season's best in athletics as they qualified for the final in men's 4x400 metre relay event in Asian Games.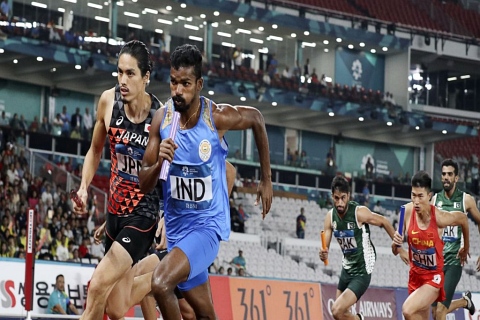 18th Asian Games 2018
Gelora Bung Karno Main Stadium, Jakarta
In athletics, Pakistan qualified for the final with the timing of 3:08.20 minutes to claim the fifth position in heat one in men's 4x400 meter relay event but qualified for the final, finishing eighth overall out of 11 competing countries.
Pakistan achieved a season's best in athletics with this win, now Pakistan have to improve for the final though, as they were more than a minute behind China, who finished seventh. Qatar set the mark in the heats with a time of 3.06.08.
Pakistan's team comprising Umar Sadat, Mehboob Ali, Mazhar Ali, and Mohammad Nadeem achieved this timing.
Pakistan is expecting medal in this category. However, Pakistan's top athlete Naukar Hussain is not participating in this relay category. A doctor of Pakistan Medical Commission stopped him from participation in this event due to injury.
Naukar's injury prevented him from participation in the semi-final of 400 metre race despite his qualification.According to Asghar Gul, the head coach of Pakistan Athletics Federation, Umar Sadat was inducted in the team in place of Naukar.
Qualifying team Standing:
| | | |
| --- | --- | --- |
| Rank | Team | Mark |
| 1 | Qatar | 3:06.08 |
| 2 | Japan | 3:06.11 |
| 3 | Behrain | 3:06.29 |
| 4 | India | 3:06.48 |
| 5 | Sri Lanka | 3:06.66 |
| 6 | Iraq | 3:06.92 (Seasonal Best) |
| 7 | China | 3:06.98 |
| 8 | Pakistan | 3:08.20 (Seasonal Best) |