Pakistan Rugby team to leave for Asian Games 2018 on 27th August
Pakistan Rugby team is set to depart for Indonesia in order to participate in the Asian Games 2018 Rugby Sevens event after being made part of the Pakistani contingent.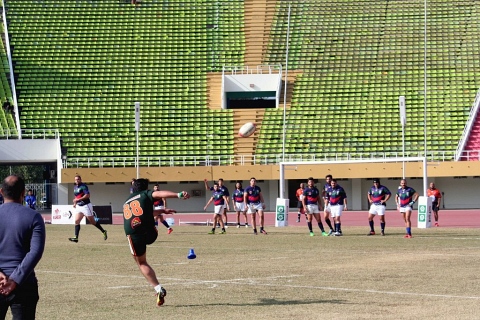 Pakistan Rugby Sevens team is gearing up for the Asian Games Rugby event to be held Jakarta, Indonesia.The team is currently training hard for the event in Lahore. According to Pakistan Rugby Union Services Manager Syed Mozzam Ali Shah, the Pakistan rugby team is due to leave for Asian games Rugby sevens event on 27th of August.
A total of twelve teams are going to compete in the event; Japan, Hong Kong, Thailand, China, Malaysia, Chinese Taipei, Indonesia, South Korea, Sri Lanka, UAE, Afghanistan and Pakistan. Pakistan has been grouped alongside Hong Kong, Thailand and neighboring country China.
Pakistan is scheduled to play its first match on 30th August against Hong Kong, the 2nd match is also to be played on the same day for which the opponent will be Thailand. Pool matches will begin from 1st September and the national rugby will return home from Indonesia by September 2, 2018.
The squad for Asian games remains largely unchanged from the one which took part in the Asian Rugby Sevens Trophy held earlier this month in Singapore:
Kashif Khwaja (Captain)
Muhammad Afzal
Muhammad Shoaib Akbar
Ahmed Wasim Akram
Musadiq Altaf
Saad Arif
Faisal Aslam
Khalid Hussain Bhatti
Daud Gill
Muhammad Haroon
Mian Hamza Hayaud Din
Nasir Mehmood
Ali Shahid
Irfan Shehzad
Muhammad Waqas
Shakeel Ahmed Malik (Head coach & Manager)
Dr Mohsin (Physio)
Pakistan Rugby team head Coach Shakeel Ahmed Malik is optimistic about Pakistan's chances in the event despite being up against some giants of the Asian Rugby Arena. He explained that the team put up good fight in the Asian Rugby Sevens Trophy and that the players were aiming to finish among the top 6 in the upcoming event.
Rugby was first contested at the 13th Asian Games held at Bangkok in 1998 and continued until the 14th Asian Games in 2002. However, since the 15th Doha Asian Games held in 2006, only rugby sevens have been contested.