Unseeded Ijaz upsets Babar by 8-6 to win 10th NBP Snooker Championship
Underdog Muhammad Ijaz mounted a thrilling comeback to defeat No.3 Babar Masih by 8-6 in the 10th NBP Snooker Championship at the NBP Sports Complex, Karachi.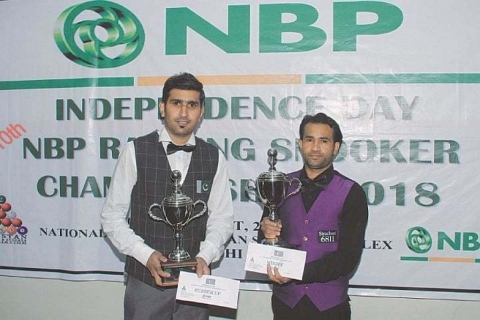 10th NBP National Snooker Ranking Championship
NBP Sports Complex
The unseeded Muhammad Ijaz defeated third seed Babar by 8-6 frames in the 10th NBP Snooker Championship at the NBP Sports Complex, Karachi.
Muhammad Ijaz had previously toppled Top seed Muhammad Asif in the semi-final.
In the first frame, Babar Masih won the toss and comfortably took a lead of 10 points at 19-9, the unseeded Ijaz survived some anxious moments to make it 32-19. Third seed Babar Masih showed great fighting spirit with a break of 48 points with 4 balls left on table. Babar Masih potted the pink ball to win the frame by 63-43 with the black ball still on table.
Muhammad Ijaz broke the second frame and led with 62-42 points with 5 balls left on the table. Ijaz won the frame as Babar Masih conceded with pink and black ball on table with 78-42 points to equal the frame count at 1-1.
At 17-21 in the third frame Babar had a 62 point break. Rawalpindi born cueist continued his aggressive play to win the frame as Muhammad Ijaz fell behind and lost 87-17.
In the Fourth frame, Ijaz got off to a bright start with a 39 point break. Babar then came back strongly and cleaned the table with a break of 81 points to win the frame 93-39.
In the fifth frame Sargodha born cueist Ijaz played skilfully to take a 38 point lead at 46-8. Despite being 3-1 down against an established opponent, M.Ijaz persisted to win the frame 94-20 with a break of 48 points.
Babar registered 4-2 lead as he won the sixth frame with a scoreline of 79-20 with only colored balls remaining unpotted.
In a tough seventh frame, Ijaz had an opening break of 44 points followed by Babar who scored a 40 point break. Both players were unable to take-up a commanding position but Babar maintained his good form to take the frame with 58-44 points.
In the last frame of the first session, Babar Masih continued to dominate play. Ijaz had no opportunity to play freely as the unseeded player trailed at 57-17. Babar had 6-2 lead at the end of first session of final.
Starting afresh, Ijaz came back strongly to win a well contested ninth frame with the scores of 68-45 to narrow the lead at 3-6.
The tenth frame was tied at a score of 51-51. The frame was decided on "re-spotted Black". Babar Masih won the toss and invited Ijaz for the first turn. After a tough battle to out-maneuver each other, Babar gifted an easy opportunity when he missed a pocket attempt and left the black ball at the mouth of the pocket. Ijaz was faultless as he won the black ball battle and frame to reduce Babar's lead to 2 frames with a scoreline of 4-6.
Ijaz played marvelously in the eleventh frame as he won his third consecutive frame to make it 5-6 with a score of 56-40.
The twelfth frame was a one sided affair which Muhammad Ijaz won with an outstanding 60 points lead, the frame score was 61-1. After the twelfth frame, the match was well poised with both players tied at 6-6.
In the thirteenth frame, unseeded Muhammad Ijaz continued his comeback against Babar as the third seed lost another frame with a big margin. The frame ended 58-2 to Muhammad Ijaz who now led by 7-6.
In a decisive fourteenth frame, Babar recovered to lead 36-1 but Muhammad Ijaz played impressively to finish the frame 77-50.
The 10th NBP Snooker Championship which was held at the NBP Sports Complex, Karachi is the first ever title for Muhammad Ijaz who came into the tournament unseeded and with few expectations. His maiden title win saw him overcome National champion Muhammad Asif as well as other top cueists. Muhammad Ijaz is the younger brother of IBSF World Snooker Championship 2014 Runner-up Muhammad Sajjad.
After the match, an award ceremony was held to distribute the tournament trophies and cash prizes:
Winner: Muhammad Ijaz (Rs.100,000)
Runner up: Babar Maseih (Rs.40,000)
Highest Break (138 points): Muhammad Asif