Unseeded Ejaz surprises favorite M. Asif to setup 10th NBP Snooker Championship final with Babar
Muhammad Ejaz defeated former champion Muhammad Asif by 6-5 to reach the final. Babar Masih defeated M. Majid Ali by 6-3 for final showdown on 13th Aug, 2018.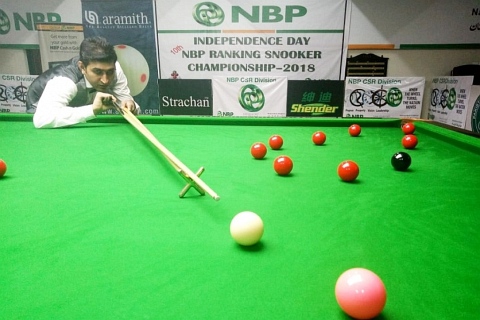 10th NBP National Snooker Ranking Championship
NBP Sports Complex
In the first semi final of 10th NBP Snooker Ranking Championship 2018, Muhammad Ejaz defeated former champion Muhammad Asif. The best of 11 semi final was decided on the last frame which saw Ejaz edge out Asif by 6-5 to reach the final. Ejaz was comfortable leading the semi final at 4-1 when M. Asif made things interesting for the unseeded Ejaz as he made a comeback to even at 4 frames each. Feeling the intensity of the situation, Ejaz exerted all his skills to win the 9th frame but found Asif leveling the frames again at 5-5 to setup the decider in the last frame of the match.
The under pressure Ejaz managed the situation well to come on top against the former champion to win the frame by 64-33.
In the second semi final, M. Majid Ali was up against 3rd seed Babar Masih. After 4 frames, Babar was leading 3-1 but fourth seed Majid made a comeback in the 5th frame with a break of 97 points to reduce the lead to 2-3.
Babar was leading at 49-24 when the table was left without the red balls in the 6th frame, but Majid made the comeback as he pocketed all the colored balls with a 27-points break to win the frame 49-51 to equalize the best of 11 semi final by 3-3. Babar started the 7th frame with a 38 points break followed by a 33 points break to setup the frame in his favor at 71-0 which was later conceded by Majid when he missed an easy red ball at 71-8. At 4-3 in Babar's favor, the closely contested 8th frame saw the 2 players exchange lead a couple of times but Babar Masih again got the upper hand in the end to seal it at 63-53 and
Babar Masih got a decisive win over M. Majid Ali in the 9 frame with a 74 points break to get into the final with a comfortable 6-3 victory.
Muhammad Ijaz (Punjab)
def.
Muhammad Asif (Punjab)

6-5


65-42, 71-0, 32-74(71), 80-32, 53-43, 34-66, 53-65, 16-87, 74-29, 40-70, 64-33
Babar Masih (Punjab)
def.
Muhammad Majid Ali (Punjab)

6-3


68-39, 72-37, 61-72, 58-35, 08-97(97), 49-51, 71-08, 63-53, 80-43(74)
The final of 10th NBP Snooker Ranking Championship 2018 will be played on Monday, 13th August at 10 am in NBP Sports Complex, Karachi