Muhammad Asif steals the spotlight on Day 3 of the 10th NBP Snooker Ranking Championship
Muhammad Asif broke an incredible 138 registering his 3rd consecutive win in the tournament on the third day of NBP Snooker Ranking Championship 2018 being played at the NBP Sports Complex, Karachi.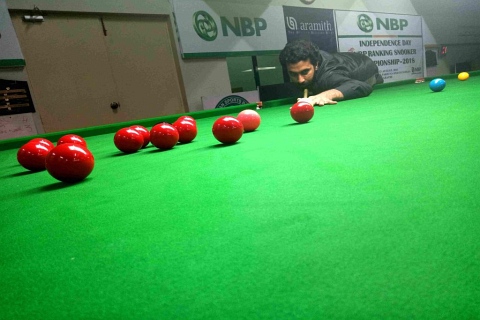 10th NBP National Snooker Ranking Championship
NBP Sports Complex
On the 3rd day of NBP Snooker Ranking Championship, all the top 8 players won their preliminary round matches.
Rashid Mehmood Abbasi, who had lost his opening match against Sirbuland Khan of KPK, remained winless, losing his second match to top seed Muhammad Asif who broke an astonishingly high break of 138 in the game's 4th frame. The match ended with a scoreline of 70-16, 65-64, 96-33,138-4 to national champion Muhammad Asif who notched up his third straight victory in the tournament.
Khurram Hussain Agha lost 4-2 to second seed Muhammad Bilal while third seed Babar Masih fired a century break, scoring 109, defeating Muhammad Ijaz in straight frames.
Muhammad Majid Ali, 4th seed, also won comfortably against Amir Sohail, beating him 4-1.
Muhammad Ahsan Javaid, who had lost both of his previous matches in the championship, was able to register his first win in the tournament, he defeated Muhammad Imran of KPK by 4-2.
Sixth seed Sultan Muhammad wasted little time charging past Rambail Gul from KPK and booked his win by 4-1. Seventh seed Ali Haider from Punjab, after losing the earlier rounds to unseeded players came back strongly and won an exciting match against Mubashir Raza, also from Punjab, on 4-1 with breaks of 69 and 56 in the first and the last frames of the match.
Sindh's Zulfiqar A. Qadir, the 8th seed showed his true potential on the third day as well, in a closely contested match, Qadir defeated Farhan Noor of Punjab by 4-2. The highlight of the match was a break of 94 by Qadir in the second frame.
Third day results:
• Sirbuland Khan (KPK) bt Agha Bilawal (Sindh) 4-2
(73-18, 41-81, 83-01(75), 14-56, 68-37, 87-33(65));
• Shahid Aftab (Punjab) bt Shaikh M. Mudassir (Punjab) 4-2
71-57, 31-66, 54-41, 34-86, 75-32, 77-08)
• Sohail Shehzad (Sindh) bt Imran Shehzad (Punjab) 4-1
(26-88, 94-25, 71-43, 62-39, 64-12(62),)
• Qadeer Abbas (Punjab) bt Muhammad Shahbaz (Punjab) 4-1
(76-44, 40-68, 66-56, 88-22(51), 68-33(50),)
• Aakash Rafique (KPK) bt Umair Alam (Sindh) 4-2
(31-77, 67-44, 67-41, 48-81, 71-35, 67-60)
• Muhammad Naseem Akhtar (Punjab) bt Abdullah (KPK) 4-3
(57-66, 52-56, 13-60, 61-26, 67-25(50), 78-28, 85-10)
• Asjad Iqbal (Punjab) bt Abdul Javaid (Punjab) 4-0
(69-50, 73-32(73), 81-43(56), 71-34)
• Sharjeel Mehmood (KPK) bt Abdul Sattar (Sindh) 4-2
(68-47, 20-97, 53-46, 62-33, 23-66, 71-40)
• Muhammad Asif (Punjab) bt Rashid Mehmood Abbasi (Isb) 4-0
(70-16, 65-64, 96-33(96), 138-04(138),)
• Muhammad Bilal (Punjab) bt Khurram H. Agha (Sindh) 4-2
(65-40, 60-48, 66-85(72), 0-95(95), 54-18, 61-21)
• Babar Masih (Punjab) bt Muhammad Ijaz (Punjab) 4-0
(82-30, 60-41, 109-0(109), 61-18)
• Muhammad Majid Ali (Punjab) bt Amir Sohail (KPK) 4-1
(75-22, 38-73, 69-09(56), 54-34, 74-08(60),)
• Muhammad Ahsan Javaid (Punjab) bt Muhammad Imran (KPK) 4-2
(45-42, 57-43, 53-57, 64-59, 18-50, 47-38)
• Sultan Muhammad (Sindh) bt Rambail Gul (KPK) 4-1
(91-01, 61-66, 67-27, 84-24, 54-52)
• Ali Haider (Punjab) bt Mubashir Raza (Punjab) 4-1
(70-23(69), 67-52, 68-34, 0-71, 56-07(56),)
• Zulfiqar A. Qadir (Sindh) bt Farhan Noor (Punjab) 4-2
(58-16, 94-1, 54-66, 67-35, 0-82, 51-45)