Asif downs Bilal to win third National Snooker Title
Former World Champion Mohammad Asif outshines challenger and former national champion Mohammad Bilal 8-5 in the best of 15 final to clinch his third national snooker title in the Jubilee Insurance 43rd National Snooker Championship at the Karachi Gymkhana.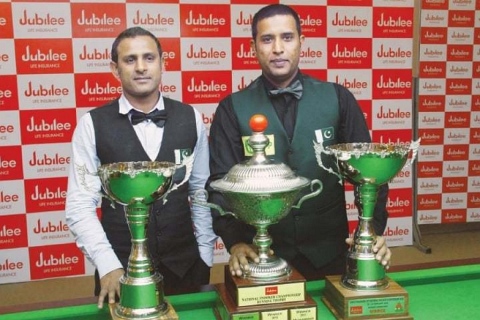 43rd National Snooker Championship
Karachi Gymkhana
Mohammad Asif also won the national titles in 2009 and 2012 and now at the age of 36, Asif routed challenger former national champion and third seed Mohammad Bilal as he started his year's campaign with winning note.
The winning score of Mohammad Asif in the four and half duel remains 83-10, 69-48, 76-19, 12-78, 28-93, 0-87, 57-77, 68-9, 79-34, 8-87, 75-51, 69-40, 66-37. After winning the final, Asif equalized the winning record of three-time national champion cueist Mohammad Sajjad besides becoming the third cueist ever in the country's history of the game to achieve it.

It to be mention here that former world champion and seasoned campaigner Mohammad Yousaf has won the national championship for record 13 times in the past.

Asif started the match as he straightaway won three frames but then third seed came strongly to win next four back-to-back frames and takes lead by 4-3. After down to 1 frame Asif won next two frames but Bilal defeated Asif yet another time in the 10th frame to level the game 5-5.

At that stage of the game, Asif pulled the momentum of the game in his hands and won next three games to clinch the title for the record third time.
Asif scored a frame of 83 in the first frame but Bilal hammered four successive breaks of 63, 60, 59 and 77 in the fourth, fifth, sixth and seventh to shift the balance in his favor. Asif then registered back to back breaks of 61 and 79 but Bilal once again drew level by piling up an elegant break of 87 in the 10th frame.

Asif had scored three century breaks in the championship including the highest of 132. Chief Guest, managing director of Jubilee General Insurance Tahir Ahmed handed over Mohammad Asif winning trophy and purse of Rs. 100, 000. He also received Rs. 10, 000 for highest break. Mohammad Bilal earned runner-up trophy and Rs. 50, 000.

President Pakistan Billiard and Snooker Federation (PBSF) Munawwar Hussain Shaikh, former president Alamgir Shaikh, PBSF secretary Zulfiqar Ramzi and Treasurer Irfan Moton were also present at the prize distribution ceremony.