Debutant Majid Ali moves into semifinals of National Snooker Championship
The decision of giving wild card to former Asian junior runner-up Mohammad Majid Ali turned right as he makes into the semifinals of Jubilee Insurance 43rd National Snooker Championship at the Karachi Gymkhana.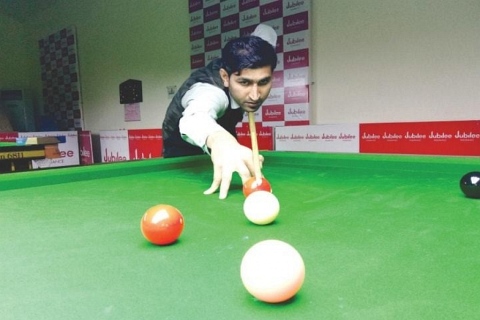 43rd National Snooker Championship
Karachi Gymkhana
Pakistan Billiard and Snooker Federation (PBSF) has given the wild card entry to Majid Ali and he proved himself eligible as he makes his way clear to the semis of the championship. PBSF has given three wildcard entries to former Pakistan No.1 and two-time national master's champion Imran Shahzad and former national champion Asif Toba and Majid Ali and the other two failed to go beyond to league stage.

Resilient Majid Ali from Samundri fought a tough battle against Sindh's Sultan Mohammad as he extended the match to its limits and defeated Sultan Mohammad 5-4 by 62-53, 32-108, 73-28, 60-0, 28-71, 54-61, 68-35, 20-79, 70-61.

24 year old Majid Ali showed his class from the start as won the frame but the veteran Sultan Mohammad downed him in the second frame. Majid then won two back-to-back frames but once again Sultan put stoppage as he leveled the match 3-3 after wining next two frames. None of them was ready to give up as both one frame each to level once again on 4-4. There once again the youngster from Punjab kept his cool and won the 9th frame to moved into the semifinals of the championship.

Former world champion Mohammad Asif played yet another century break of 100, third successive in the event after 115 and 132 as he registered his victory 5-0 by 125-0, 108-1, 72-24, 72-30, 73-49.

Asif now will face the challenge of Majid Ali in the nine-frame second semifinal.

Third seed Mohammad Bilal stamped his victory after beating 11th seed Ahsan Javaid 5-3 by 68-30, 54-70, 59-60, 99-1, 9-81, 64-41, 57-53, 64-0 and in the last encounter of the day, Babar Masih ousted Punjab cup qualifier Ali Haider 5-3 by 66-51, 69-21, 25-59, 8-66, 69-27, 61-32, 10-47, 70-17 as Babar will to play first semifinal against Mohammad Bilal to complete the final lineup.
Results
Quarter Finals
| | | | | |
| --- | --- | --- | --- | --- |
| 1 | Mohammad Bilal (Punjab) | def. | Mohammad Ahsan Javaid (Punjab) | 5-3 (68-30, 54-70, 59-60, 99-1, 9-81, 64-41, 57-53, 64-0) |
| 2 | Babar Masih (Punjab) | def. | Ali Haider (Punjab) | 5-3 (66-51, 69-21, 25-59, 8-66, 69-27, 61-32, 10-47, 70-17) |
| 3 | Mohammad Asif (Punjab) | def. | Zulfiqar A. Qadir (Sindh) | 5-0 (125-0, 108-1, 72-24, 72-30, 73-49) |
| 4 | Mohammad Majid Ali (Punjab) | def. | Sultan Mohammad (Sindh) | 5-4 (62-53, 32-108, 73-28, 60-0, 28-71, 54-61, 68-35 , 20-79, 70-61) |