Unseed continue to impress in National Snooker Championship
Another qualifier from KPK Aakash Rafique came to limelight as he thrashed former National Champion and fourth seed Shahid Aftab by 4-1 in the ongoing Insurance 43rd National Snooker Championship at Karachi Gymkhana.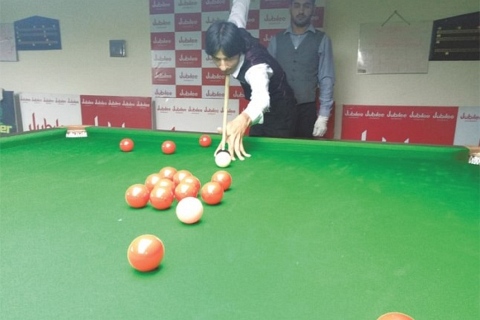 43rd National Snooker Championship
Karachi Gymkhana
Aakash Rafique earlier had won two matches against Mohammad Shahzad straight and Musaddiq Mehmood by 4-1 is now inches away for making into the knockout stage from group D. Rafique won two successive frames but in the third frame Shahid unleashed his talent to win the third frame by 95-0 but once again he got off-track as Rafique won the next two frames and won the match by 54-40, 67-28, 0-95, 74-37, 69-30.

The two top seeds, Asjad iqbal and Mohammad Asif meanwhile extended their unbeaten streak. Asjad was down but he came hard on the opponent qualifier Mohammad Imran from KPK and won the match 4-1 by 29-60, 80-43, 79-15, 73-1, 61-13 and register third consecutive victory in Group A.

Former world amateur snooker champion Mohammad Asif outpace Islamabad's Rashid Mehmood Abbasi with a score line of 4-1 as he conceded on frame but overcomes his opponent easily by 95-20, 8-64, 60-31, 49-22, 68-29.

Sajjad seems not to be in his tone as he lost both of his group matches. He lost against Sindh's Sohail Shahzad by 2-4 and also got defeated by KPK's Amir Shahzad with the identical 2-4. After failing to finish in top 12 to get direct entry in the event, Sajjad had qualified from Punjab Cup.

Another century break was also seen on the third day which is overall the sixth of the event as Mohamad Bilal compiled a break of 108 against Turyali Aziz of Balochistan and register victory 4-1 with score line of 109-0, 105-13, 49-74, 81-22, 78-33.
Results - Day 3
| | | | | |
| --- | --- | --- | --- | --- |
| 1 | Asjad Iqbal (Punjab) | def. | Mohammad Imran (Khyber Pakhtunkhwa) | 4-1 (29-60, 80-43, 79-15, 73-1, 61-13) |
| 2 | Mohammad Asif (Punjab) | def. | Rashid Mehmood Abbasi (Islamabad) | 4-1 (95-20, 8-64, 60-31, 49-22, 68-29) |
| 3 | Ali Haider (Punjab) | def. | Shaikh M. Mudassir (Punjab) | 4-0 (63-37, 66-52, 86-48, 78-37) |
| 4 | Mohammad Umar (Punjab) | def. | Haris Nadeem (Sindh) | 4-2 (63-29, 32-76, 47-73, 68-37, 82-19, 64-56) |
| 5 | Ian Mark John (Sindh) | def. | Jahangir Yar Mohammad (Balochistan) | walk over |
| 6 | Mohammad Naseem Akhtar (Punjab) | def. | Sirbuland Khan (Khyber Pakhtunkhwa) | 4-3 (41-64, 57-34, 64-40, 68-22, 16-63, 47-52, 68-40) |
| 7 | Mohammad Bilal (Punjab) | def. | Turyali Aziz (Balochistan) | 4-1 (109-0, 105-13, 49-74, 81-22, 78-33) |
| 8 | Akash Rafiq (Khyber Pakhtunkhwa) | def. | Shahid Aftab (Punjab) | 4-1 (54-40, 67-28, 0-95, 74-37, 69-30) |
| | | | | |
| --- | --- | --- | --- | --- |
| 9 | Usman Ahmad (Punjab) | def. | Aamir Sohail (Khyber Pakhtunkhwa) | 4-0 (69-55, 75-6, 59-46, 55-41) |
| 10 | Mohammad Shahbaz (Punjab) | def. | Farhan Noor (Punjab) | 4-0 (78-38, 69-28, 65-58, 62-55) |
| 11 | Agha Bilawal (Sindh) | def. | Mehmood Khan (Balochistan) | 4-0 (76-1, 44-14, 66-3, 1-0) |
| 12 | Musaddiq Mehmood (Islamabad) | def. | Saif Ali Khan (Balochistan) | 4-1 (46-57, 60-11, 51-28, 63-30, 57-23) |
| 13 | Mubashir Raza (Punjab) | def. | Mohammad Abdullah (Khyber Pakhtunkhwa) | 4-1 (75-13, 76-10, 45-61, 99-1, 65-56) |
| 14 | Zulfiqar A. Qadir (Sindh) | def. | Saeed Ahmed (Balochistan) | 4-2 (28-62, 72-14, 58-52, 64-68, 63-31, 60-4) |
| 15 | Mohammad Faizan (Sindh) | def. | Mohammad Ishtaiq (Sindh) | 4-1 (8-86, 64-52, 57-22, 45-15, 1-0) |
| 16 | Mohammad Ahsan Javaid (Punjab) | def. | Awais Ullah (Punjab) | 4-2 (85-47, 61-38, 71-52, 2-69, 5-71, 59-45) |
| 17 | Qadeer Abbas (Punjab) | def. | Bahadur Khan (Balochistan) | 4-1 (54-63, 77-6, 1-0, 1-0, 1-0) |
| 18 | Rambel Gul (Khyber Pakhtunkhwa) | def. | Umair Alam (Sindh) | 4-1 (20-38, 69-28, 63-58, 69-55, 60-14) |