Qualifier Qadeer Abbas upsets Mubashir Raza in National Snooker Championship
Debutant Qadeer Abbas from Punjab stunned fifth seed Mubashir Raza in an exciting encounter by 4-3 in the Jubilee Insurance 43rd National Snooker Championship at Karachi Gymkhana.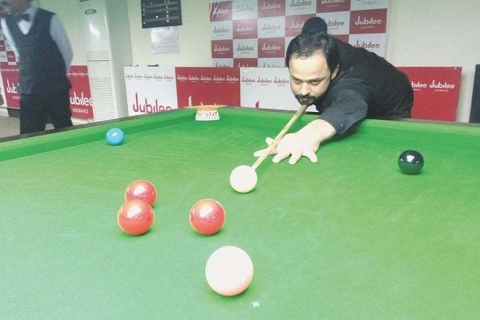 43rd National Snooker Championship
Karachi Gymkhana
Qualifier Qadeer Abbas, who was playing his first major tournament sent fifth seed Mubashir Raza packing in a thrilling match by 4-3. Qadeer twice came back from the deficit and finally won the decisive seventh frame and stretched his unbeaten streak in group E. He won the contest by 63-66, 65-34, 53-0, 50-67, 0-96, 65-20, 56-18.

It is to be mention here that Abbas started the tournament with a win as he defeated former Sindh champion Mohammad Ishtiaq by 4-2 whereas it was the second consecutive defeat for Mubashir as he lost his first match against wildcard holder Majid Ali by 4-1 on the opening day of championship. Now he got very low chances to move into knockout round.

The other top seeds, Asjad Iqbal and Mohammad Asif won their matches to extend their winning run in the group A and B respectively.

Asjad Iqbal defeated Ali Haider 4-2 by 63-43, 82-16, 66-57, 37-87, 40-53, 81-11 whereas, Asif won his match 4-1 against Haris Nadeem by 28-72, 85-24, 64-39, 70-2, 57-12.

On the second day of the event, Babir Masih and Zulfiwar A Qadir played century breaks each against their opponents. Babar hammered a break of 106 against less experienced Samiullah as he played an identical break on the first day of championship. Mohammad Asif also chalked up a break of 106 against Sindh's Umair Alam.
Results:
| | | | | |
| --- | --- | --- | --- | --- |
| 1 | Asjad Iqbal (Punjab) | def. | Ali Haider (Punjab) | 4-2 (63-43, 82-16, 66-57, 37-87, 40-53, 81-11) |
| 2 | Mohammad Asif (Punjab) | def. | Mohammad Haris Nadeem (Sindh) | 4-1 (28-72, 85-24, 64-39, 70-2, 57-12) |
| 3 | Ian Mark John (Sindh) | def. | Shaikh M. Mudassir | (Punjab) walk over |
| 4 | Mohammad Umar (Punjab) | def. | Sirbuland Khan (Khyber Pakhtunkhwa) | 4-1 (55-56, 67-61, 96-0, 63-56, 59-17) |
| 5 | Mohammad Imran (Khyber Pakhtunkhwa) | def. | Jahangir Yar Mohammad (Balochistan) | 4-2 (58-30, 65-26, 62-45, 46-53, 24-63, 75-8) |
| 6 | Mohammad Naseem Akhtar (Punjab) | def. | Rashid Mehmood Abbasi (Islamabad) | 4-2 (36-82, 55-8, 45-71, 75-1, 68-34, 73-18) |
| 7 | Mohammad Bilal (Punjab) | def. | Mehmood Khan (Balochistan) | 4-0 (84-14, 66-19, 64-27, 85-21) |
| 8 | Shahid Aftab (Punjab) | def. | Saif Ali Khan (Balochistan) | 4-0 (72-31, 76-74, 60-52, 68-5) |
| 9 | Abdul Javaid (Punjab) | def. | Usman Ahmad (Punjab) | 4-3 (56-65, 69-14, 70-11, 50-34, 52-58, 23-77, 71-20) |
| 10 | Fazal Umar Butt (Sindh) | def. | Mohammad Shahbaz (Punjab) | 4-1 (60-26, 48-58, 61-34, 70-45, 73-20) |
| | | | | |
| --- | --- | --- | --- | --- |
| 11 | Agha Bilawal (Sindh) | def. | Turyali Aziz (Balochistan) | 4-1 (68-50, 58-18, 35-59, 95-34, 61-14) |
| 12 | Aakash Rafique (Khyber Pakhtunkhwa) | def. | Musaddiq Mehmood (Islamabad) | 4-1 (90-21, 45-65, 69-64, 78-52, 72-8) |
| 13 | Qadeer Abbas (Punjab) | def. | Mubashir Raza (Punjab) | 4-3 (63-66, 65-34, 53-0, 50-67, 0-96, 65-20, 56-18) |
| 14 | Zulfiqar A. Qadir (Sindh) | def. | Umair Alam (Sindh) | 4-1 (1-0 (first frame awarded to Qadir), 66-34, 29-68, 111-11, 99-10) |
| 15 | Mohammad Majid Ali (Punjab) | def. | Mohammad Ishtaiq (Sindh) | 4-1 (89-56, 65-35, 52-16, 22-61, 63-22) |
| 16 | Mohammad Ahsan Javaid (Punjab) | def. | Mohammad Asif Toba (Punjab) | 4-3 (2-73, 71-25, 24-58, 58-40, 91-41, 48-64, 72-45) |
| 17 | Mohammad Abdullah (Khyber Pakhtunkhwa) | def. | Mohammad Faizan (Sindh) | 4-1 (54-50, 52-44, 17-59, 68-11, 67-55) |
| 18 | Awais Ullah Munir (Punjab) | def. | Saeed Ahmed (Balochistan) | 4-0 (65-54, 108-12, 65-63, 68-15) |
| 19 | Khurram H. Agha (Sindh) | def. | Ahmed Shah (Balochistan) | 4-0 (49-23, 86-0, 70-16, 70-11) |
| 20 | Babar Masih (Punjab) | def. | Samiullah (Balochistan) | 4-1 (82-20, 43-75, 80-4, 106-22, 69-30) |