Semifinal lineup complete in National Hockey Championship
Semifinalists of the 64th National Hockey Championship has decided after the last day matches of super round at Sukkur Hockey Stadium.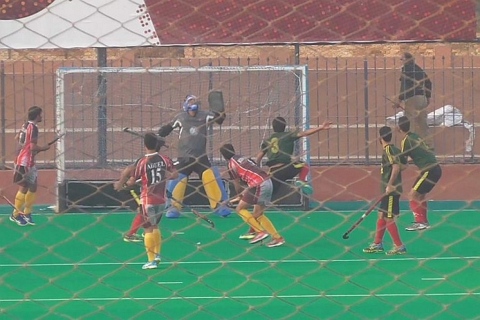 64th National Hockey Championship 2017
Sukkur Hockey Stadium
Both the semifinals will be played on Saturday 30th December where National Bank to face Navy at 6:00pm while WAPDA to play against SSGC at 8:00pm. Minnows, Pakistan Navy was the surprise package for the teams as it qualifies for the semifinals of the national championship. Navy shocks the defending champions PIA 1-0 and remained unbeaten in the super round to secure the semifinal seat for them. PIA was not only the three time defending champions of National Hockey championship but also the most successful team in the history Pakistan of national championships. PIA lifted the trophy 28 times.

In the last day of super round, Navy was held in a draw against the Fauji fertilizers company 1-1. Mohammad Sabir was the goal scorer from the sailors while Khairullah netted the ball once from FFC. The debutant, FFC although failed to qualify for the semis round but they played extremely well and displayed impressive game as they moved into the super round of National Hockey championship.

In the second match, National Bank outplayed Customs 4-1. Faisal Qadir, Aamer Ali, Attique Arshad and Dilber scored 1 each to earn victory for the bankers while Munawar was the lone scorer from customs. Defending champions PIA overwhelmed Punjab by 5-1 in another super round match. Nasir Ahmed and Shafqat Rasool fired a brace each while Mohammad Ali scored 1 goal. Jahangir scored the only goal from Punjab.

SNGPL cruises KPK 9-1 in the last match of super round. SNGPL played exceptionally well and dominated through entire match. With beautiful long and short passes they time and again break the defense of KPK and posted goals after one another while KPK only once able to cross the defensive line of SNGPL to score a goal. Ghulam Abbas from SNGPL scored a hat-trick while Samiullah and Ayub added a brace and Dawood, Rana Waheed netted the ball once apiece. Safian Khan was the only goal scorer from KPK.