PAF, Navy and Islamabad tastes victory in National Hockey Championship
Pakistan Air Force, Navy, Islamabad, WAPDA and Sui Southern Gas Company won their matches in the ongoing 64th National Hockey Championships at Sukkur Hockey Stadium.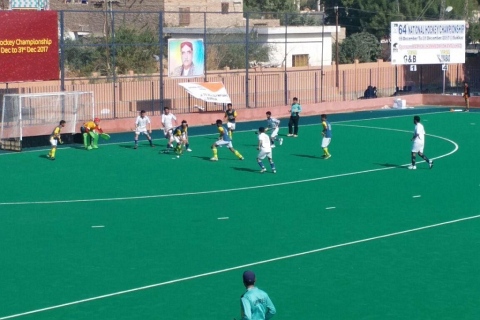 64th National Hockey Championship 2017
Sukkur Hockey Stadium
PAF defeated HEC in a thriller by 5-3. Mudassar netted the ball twice while Adnan, Mushtaq and Alamgir hit one goal each for PAF. Mohammad Abid, Amar Ahmad and Ashar Tariq scored a goal each from HEC.

Another entertaining and thrilling encounter was seen between Navy and Railways where both the teams tried their best to convert goal but it was Hamza Waheed from Navy who netted the ball once to take lead and that remains till the end of the match. Last match between the provincial sides was played between Islamabad and Gilgit-Baltistan where the Capital side remained victorious against GB with 4-1. Mubeen scored two goals from Islamabad while Zainulabidin and Umar Mujtaba scored 1 each goal. Imtiaz score the solitary goal for Gilgit-Baltistan team.

In departmental team matches, WAPDA outlasted Sui Northern Pipeline Limited 4-0. Tauseeq, Asad Bashir, Aleem Bilal and Khizer Akhtar score once each for WAPDA. SNGPL tried hard to convert any goal but WAPDA's defense did not allow them to score any goal. In the last match of the day, SSGC in another thrilling encounter beats ZTBL by 3-2. Mohammad Rizwan scores twice while Ali Shah added 1 goal for from SSGC. Hammad Anjum and Ghazanfar Ali contributed a goal each from ZTBL.