Debutant FFC continue impressive show in National Hockey Championships
Newly raised Fauji Fertilizer Company continue making waves at the 64th National Hockey Championships at Sukkur Hockey Stadium.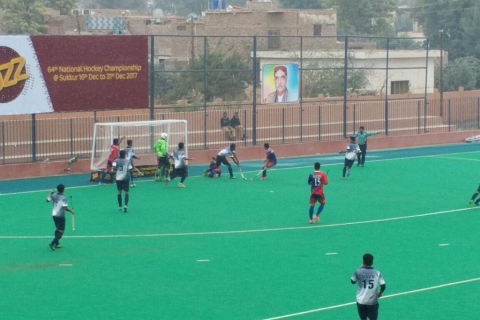 64th National Hockey Championship 2017
Sukkur Hockey Stadium
Asfandyar from Fauji Fertilizers netted the ball twice as FFC won the match against Port Qasim Authority. Talented Wasim Akram, Awais Rahman and Ilyas scored 1 goal each from FFC. Former Pakistan Hockey team captain Shakeel Abbasi, Haris and Bilal found the target once each from Port Qasim Authority.

Young Customs outlasted PTV 3-0. Customs took the ball possession in their hand most of the time and did not allow PTV to scare them. Customs marked the PTV players quite well and defended their goal post quite well with their formation. Waqas Ahmed, Muhammad Shoaib and Asad Arshad shared goal each from Young Customs.

In the provincial team matches, Punjab outplayed FATA with a big margin 9-2. Punjab players, time and again launched attacks on FATA goal post and most of the times return victorious in their attempts. Ahmed Ali, Jahangir Ali and Muzammil Hussain scored 2 goals each while Mohammad Ahsan,
Faizan Haider and Aaqil Saleem shared 1 goal apiece.
In the last match of the day, KPK thrashes Balochistan by 6-0. Adeel Zaman and Ziyad scored twice for KPK while Jawwad and Naveed Iqbal netted the ball once for his team. Balochistan were unable to convert any goal.