PIA, WAPDA secures big wins in National Hockey Championship
PIA and WAPDA thrashed their opponents in the league matches of 64th National Hockey Championship. KPK, Punjab, SSGC, NBP also registered victories on the second day of championship.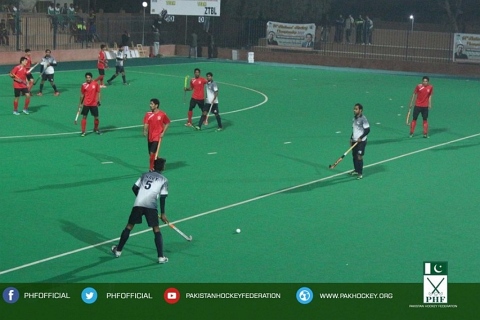 64th National Hockey Championship 2017
Sukkur Hockey Stadium
Punjab, SSGC, NBP and KPK won their matches which PIA and WAPDA thrashed their opponents with big victories. The defending champions PIA cruises PTV by 7-2. Former Pakistani captain Hassem Khan showed his class and scored 4 goals.
WAPDA secured another big win as they crushed Air force by 9-0. Air force had no answer of the class of WAPDA players. In provincial team matches, KP clinched victory after defeating hosts Sindh. Adeel Zaman and Naveed Iqbal scored the goals from KP. In another match, Punjab faced hard time to defeat Islamabad by 1-0. Ahmed Ali netted the only goal from Punjab. SSGC defeated Railway 4-0. Zeeshan Bokhari added two goals while Mubashir and Adeel contributed 1 goal each.
National Bank of Pakistani outlasted FFCL 2-1. Faisal Qadir and Abu bakr converted 1 goal each from NBP while Waseem Akram scored the only goal for FFCL.