Muhammad Inayatullah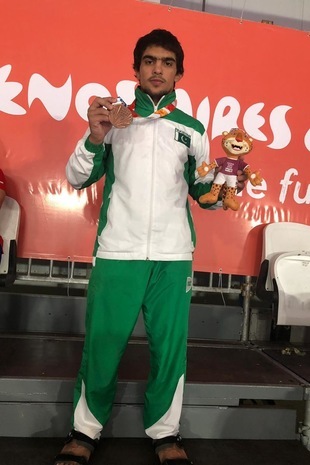 Achievements
2019:
Inayat claimed the gold medal in the 13th South Asian Games in Nepal.
Gold medal in 33rd National Games Peshwar.
2018:
Inayatullah grabbed Pakistan's second-ever medal at the Youth Olympics and the 2018 Youth Olympic Games' first as he defeated US wrestler Carson Taylor Manville 3-1 to grab bronze in the -65kg event in Buenos Aires. Pakistan government rewarded the youngster with handsome prize money of Rs. 5 million for the stunning achievement.
2017:
Muhammad Inayatullah made history for Pakistan on 14th October 2017 as he became the first-ever Pakistani wrestler to win a 70kg title at the Beach World Wrestling Championships by defeating an Irani opponent in the final in Dalyan, Turkey.
He won the silver medal at the Asian Juniors' Wrestling Championship 2017 in cadet category.
Muhammad Inayatullah's Profile
Age (Years): 22
Sport: Wrestling
City: Peshawar
Weight(Kgs): 65
Teams:
Pakistan Wrestling (National Team)
Pakistan WAPDA (Departmental Team)
Biography:
Proficient wrestler, Muhammad Inayatullah has been a shining talent for Pakistan.
The Peshawar-based youngster, Inayat is raised by his father Muhammad Zahid — an Asian Games medallist himself and remained national champion for over a decade.
Inayat was roped in by WAPDA after he won gold in the 2012 National Under-14 event for a minor stipend of Rs5000. Now he is a permanent employee of the department and is in Grade-16.
Inayat was trained for around 12 years at Peshawar by Mohammad Naeem, an international wrestler of Afghanistan. Iranian coaches also labelled him as a future Olympics medallist.
Inayat said that he can achieve big targets if he is supported.
"Naeem worked hard with me to help me achieve what he could not achieve as a wrestler," said Inayat, who has around 35 players training under him at his academy. "I am a coach too, training around 35 wrestlers in Peshawar," he said.
Inayat has attended Islamia Collegiate School fro intermediate degree.