Muhammad Inam Butt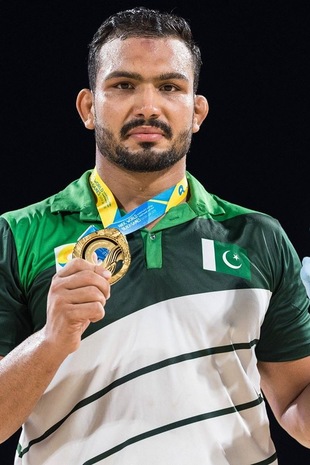 Achievements
Inam participated in the 84 KG weight class freestyle at the
2010 Commonwealth Games in New Delhi, India
, where he won the gold for the country by overpowering the opponent wrestler from the arch-rival nation, India.
Inam was selected to participate in the
2014 Commonwealth Games in Glasgow, UK
as well as at the
2014 Asian Beach Games in Phuket, Thailand
where he won Bronze in the 90+ KG weight class in beach style.
Inam participated in the 86 KG class freestyle at the
12th South Asian Games in Guwahati, India
, where he once again won the Gold in freestyle wrestling against his Indian opponent.
He then competed in the - 90 KG weight class of the
5th Beach Asian Games in Danang, Vietnam,
where he clinched another gold medal in freestyle wrestling.
Inam also participated in the 86 KG weight category of the
2016 Common Wealth Wrestling Championship in Singapore
, where he earned a Silver medal in freestyle wrestling.
Inam bagged the gold medal in 86 KG weight category at the
2018 Commonwealth Games, Gold Coast
as well.
He has received
pride of performance award
on 23 March 2019.
Pakistan's champion Wrestler Inam Butt added another feather to his cap when he won the Gold medal in the
World Beach Games in Doha, Qatar.
Pakistan Cricket Board(PCB) invited Inam Butt to HBL PSL match and presented a token of appreciation with their
Hamarey Heroes Campaign
.
Muhammad Inam Butt's Profile
Age (Years): 33
Sport: Wrestling
City: Gujranwala
Weight(Kgs): 90
Clubs:
Gujranwala Wrestling Club
Biography:
Muhammad Inam Butt is a renowned wrestler from Pakistan who hails from Gujranwala city. Inam has represented Pakistan at several international platforms where he has been keeping straight his top spot triumphs in almost all of the participating events at both national and international tournaments and championships.
He is currently acting as the ambassador for Pakistan Olympic Association (POA).
National hero Inam Butt tie the knot on January 9 2020, in Gujranwala also known as the city of wrestlers.