Sara Mansoor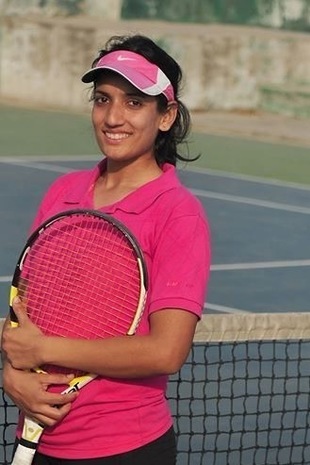 Achievements
Currently Pakistan's No.1 ranked player, Sara Mansoor was captain of Pakistan Women's Tennis Team at the Asian Indoor Games 2017, held in Ashgabat, Turkmenistan, and has been an active member of Pakistan Fed Cup team for the past several years.
Sara became the Pakistan's first Female ITF Level-2 Coach.
She represented Pakistan in the Federation Cup (Fed Cup) held in Thailand (2011), China (2012), Kazakhstan (2013 and 2014), India (2015) and 17th Asian Games in South Korea (2014).
Playing for Pakistan at the Fed Cup, Mansoor has a win-loss record of 6-23.
Sara won Islamic Games 2005.
She holds accolades in All-Pakistan University Games and abroad in Thailand.
Sara's biggest achievement is a bronze medal in the ladies single event in South Asian Games 2016 (SAF) held in India.
Sara is also the first female player in the entire history of the National Team to get a bronze medal in a ladies single event.
Sara Mansoor clinched the Women's Singles title in the second Chairman JCSC Open Tennis Championship 2019.
Leading tennis player Sara Mansoor won Shehryar Malik Memorial Grass Court Tennis Championship 2019 ladies singles title.
Sara Mansoor's Profile
Age (Years): 35
Sport: Tennis
City: Islamabad
Weight(Kgs): 53
Teams:
Pakistan National Tennis Team
Biography:
A right-handed base line player of Tennis, Sara started off her career as a junior player in a tennis camp at GHQ Tennis Club, which led her to Under-14 events where she got breakthrough and started off as a professional player.
Her tennis journey covers successful wins in national as well as international events.
Sara carries her family name in sports as her Grandfather Maj (R) Abdul Rashid was a legendary boxer, judge and coach for Pakistan Army and the National Team. Her constant struggle, hard work and family support has led her career to new heights. We wish her all the best with her future.