Ameer Mazari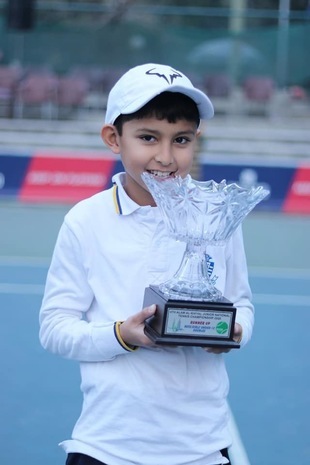 Achievements
In Under10 category, number 4th rank player.
In the Under12 category, number 5th in Pakistan.
2020:

Winner of SICAS Punjab Junior Tennis Championship 2020.
Winner of Pearl Continental Lahore Junior National Tennis Championship 2020 in Boys under 12 category.
2019:
Ameer Mazari annexed the PLTA JTI Junior Tennis Championship 2019 in the U-10 category.
8th Essa Lab National Junior & Senior Tennis Championship— U10 Double title winner.
Boulevard Mall National Senior & Junior Tennis Championship 2019 —Under 10 Double winner
McDonald's Junior National Ranking Tennis Championship 2019 — Girls/Boys Double Under-10 winner
Rafum Punjab Junior Tennis Championship 2019¬ — Under-10 title winner
2018:

Scholar-Athlete Award in 2018
Sheheryar Malik National Grass Court Tennis Championship 2018 winner
Ameer Mazari's Profile
Age (Years): 13
Sport: Tennis
City: Lahore
Weight(Kgs): 32
Clubs:
PLTA and Aitchison College
Teams:
Aitchison College team
Punjab Lawn and Tennis Association(PLTA) club team
Biography:
Ameer Muhammad Mazari is an emerging tennis player from Lahore where he studies at Aitchison College.
Ameer claimed several national titles and continues his struggle to make the country and his parents proud.