Irfan Mehsood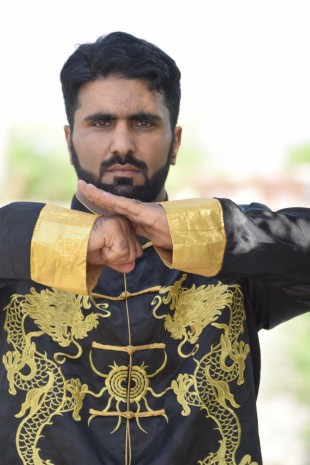 Achievements
Pakistani martial artist, Irfan Mehsood, has scored his 30th Guinness World Record with the latest record of most jumping jacks carrying 80 lb pack in one minute.
Irfan Mehsood has scored his 29th Guinness World Record with the record of most knuckle push-ups carrying 60 lb pack in one minute.
most two-finger pushups with 100lb in one minute 12 pushups.
most two-finger pushups with 40lb in one minute 38 pushups.
Pushups one leg raised pushups with 80lb in one minute 40 pushups.
Most knuckle pushups with 60lb in one minute 59 pushups
most fingertips pushups with 60lb in one minute 39 pushups
most fingertips pushups with 40lb in one minute 48 pushups.
The martial arts athlete Irfan Mehsood has achieved another feat, by cracking the record for the most side lungs in one minute previously held by an Indian.
Irfan has made it to the Guinness Book of World Records after completing 39 fingertips pushups in one minute.
Irfan has made it to the Guinness Book of World Records after completing 40 one-leg elevated pushups in one minute.
most full-contact knee strikes 87 in one minute using one leg;
most full contact knee strikes 83 in one minute (alternate legs);
most push-ups (one leg raised, carrying a 40-lb pack) 31 in one minute;
most knuckle push-ups 25 (with one leg raised, carrying a 40-lb pack) in one minute;
most thumb push-ups 35 in one minute; Most Bo staff strikes 261 in one minute.
Most Knuckle Push-ups carrying 60 lb pack in one minute

Most jumping jacks carrying an 80 lb pack in one minute
Most hugs in a minute by a pair
Most full contact elbow strikes in one minute (one elbow)
Most thumb pushups (both arms) in one minute
Most Bo staff strikes in one minute
Most two-finger push-ups(two arms) in one minute carrying a 40 ib pack
Most full contact knee strikes using alternate legs in one minute(male)
Most Knuckle push-ups (one leg raised, carrying 40 Ib pack) in one minute
Most push-ups (one leg raised, carrying 80 Ib pack) in one minute
Pride of Pakistan award 2017 by Pakistan book of records
pride of KP award 2019 by Akash foundation
pride of Waziristan award 2019 by Waziristan youth forum
player of the year award 2016,2019 by the platform Mahsud welfare association Pakistan
Irfan Mehsood's Profile
Age (Years): 33
Sport: MMA
City: Dera ismail khan
Weight(Kgs): 83
Clubs:
Lions den mma fight club
Teams:
Lion's den MMA fight club Dera Ismail khan
Biography:
Irfan Mehsood is one of the top martial artists in the country having 30 records mentioned in the Guinness Book of World Records.
Irfan belongs to the South Waziristan Tribal District. He lives in Dera Ismail Khan. He is the first person to introduce Wushu, MMA, boxing in his area. He is also national, KP and FATA level gold medalist in wushu and Shaolin wushu kungfu.
He has been pursuing his passion for martial arts since his teenage years and began training in 2005 "right after his matriculation".
But he turned his passion into a purpose after his family was internally displaced due to the Waziristan operation in 2009. He moved to DI Khan with his family among others.
Irfan has done his M.Phil from Gomal University and the martial artist. Now, Irfan is a coach at Lions Den MMA fight club.
Irfan Mehsood got inspired by Jackie Chan, who is known in the cinematic world for his acrobatic fighting style, comic timing, use of improvised weapons, and innovative stunts, which he typically performs himself.