Jamna Bheel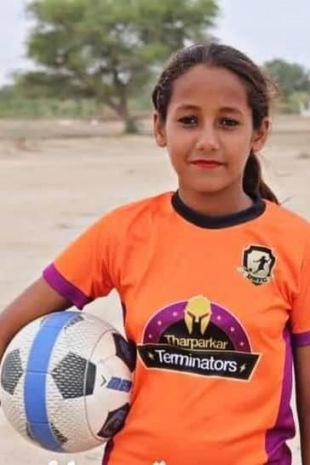 Achievements
Elected from Engro to Perform in USA. Sindh Engro Coal Mining Company
Jamna Bheel's Profile
Age (Years): 15
Sport: Football
City: Takhtbai
Weight(Kgs): 39
Clubs:
Diya Women Football Club
Biography:
This is Jamna Bheel a younger girl from Tharparker, Sindh.
Currently, she's a student of Thar Foundation school and previously, as part of TF's extra-curricular initiative.
Jamna has participated in the Inter-District Female Football Tournament – organized by TF in collaboration with Diya Football Club – and has also represented her country in Gothia Football World Cup in China in 2019 with the support of Thar Foundation.
She Performed very well to Play Football as a Topper. Now, she is chosen from Engro_Thar (SECMC) to perform in United State of America (USA).
She will be representing Thar, Sindh, Pakistan in the streets of the USA.