Abdul Hanan Shahid to lead Pakistan in Sultan Johor Hockey Cup 2023.
Pakistan junior hockey team departs for India aiming to achieve big results in the upcoming SJHC 2023.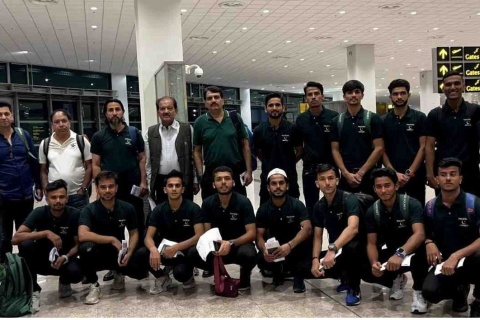 On Tuesday, the Pakistan Hockey Federation (PHF) announced the roster of players and officials who will represent Pakistan in the upcoming international hockey tournament, the Sultan Johor Hockey Cup (SJHC). This prestigious event is scheduled to take place at the Taman Daya Hockey Stadium in Johor Bahru, Malaysia, from October 27 to November 4, 2023.
As per an official statement from PHF, this selection comes after receiving approval from the President of PHF, Brigadier (Retd) Khalid Sajjad Khokhar. The Pakistani team will consist of 21 junior players and 7 officials, all confident to participate in the 11th Sultan Johor Hockey Cup 2023.
The tournament will witness the participation of eight prominent teams, including Pakistan, Australia, India, Germany, Great Britain, Malaysia, New Zealand, and South Africa. The action-packed days, where the players will be showcasing their talent filled with national spirit and enthusiasm.
The teams have been grouped into two pools for the tournament. Pool A includes Australia, Germany, Great Britain, and South Africa, while Pool B consists of host nations Malaysia, New Zealand, Pakistan, and the three-time champions, India. The defending champions, India, are looking to retain their title, following their victory over Australia in the 2022 final.
The Pakistani squad, comprising 21 talented players, is as follows: Ali Raza (Punjab), Abdul Rafi (Sindh), Arbaaz Ahmed (Vice-Captain - Mari Petroleum), Mohammad Sufyan Khan (Mari Petroleum), Ehtisham Aslam (Mari Petroleum), Murtaza Yaqub (WAPDA), Arbaaz Ayaz (Sindh), Zakaria Hayat (Navy), Arshad Liaquat (Mari Petroleum), Abuzar (Customs), Abdul Wahab (Sindh), Abdul Qayyum (Customs), Abdul Hanan Shahid (Captain - WAPDA), Basharat Ali (Navy), Hamza Fayyaz (Customs), Abdul Rehman (WAPDA), Ghazanfar Ali (Customs), Rana Waleed (Navy), Mohammad Arsalan (Punjab), Mohammad Imad (Customs), and Faizan Janjua as the goalkeeper (Customs).
The team will be supported and guided by a group of dedicated officials: Lt. Col (Retd) Asif Naz Khokhar (manager), Olympian Abdul Hanif Khan (head coach), Roelment Oltamans (consultant), Asif Ahmed Khan (coach), Mohammad Ali (coach), Olympian Shakeel Abbasi (coach), and video analyst Nadeem Khan Lodhi (video analyst).
The Sultan Johor Hockey Cup 2023 promises to be an exciting display of skill, teamwork, and sportsmanship. Pakistan Hockey Team will play their first match defending champion and arch-rival India in the opening match to SJHC 2023 on 27th October followed by:
27 October 2023: Malaysia vs New Zealand
27 October 2023: Australia vs Great Britain
28 October 2023: Germany vs South Africa
28 October 2023: Pakistan vs New Zealand
28 October 2023: Malaysia vs India
30 October 2023: South Africa vs Great Britain
30 October 2023: Australia vs Germany
30 October 2023: India vs New Zealand
31 October 2023: Germany vs Great Britain
31 October 2023: South Africa vs Australia
31 October 2023: Pakistan vs Malaysia
November 3, 2023: Semi Final 1
November 3, 2023: Semi Final 2
November 4, 2023: Grand Final