All set for 45,00,000 PKR PUBG Mobile National Championship Pakistan 2021
The PUBG Mobile National Championship ready to spin its magic in Pakistan to crown 2021 Champion from 7th June till 27th July.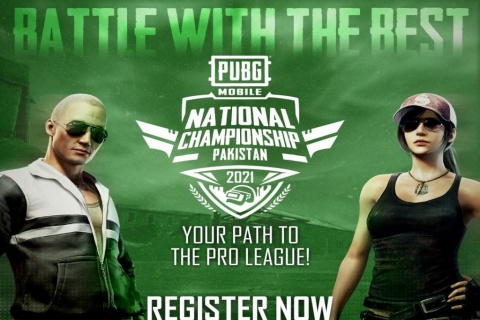 PUBG Mobile National Championship 2021
Online
PUBG Mobile National Championship arrives to Pakistan to crown 2021 Champion! Best PUBG MOBILE Players and Teams in PK will be fighting for the PMPL slot's and prize pool starting from 31st of May. If you ever wanted to become a pro - that's your biggest chance. Register your team and take part in the tournament. Great path awaits you, fight to be a #1!
Follow the link below for Registrations:
https://esports.pubgmobile.com/pmnc/pk/?
Requirements for Registration:
1. Rosters are finalized upon registration submission.
2. Participants must have reached 16 years of age or older (i.e., the player has lived for at least 16 calendar years) as of the Tournament start date, and must comply with any applicable age ratings from ratings authorities and mobile platform ratings systems.
3. A player under the legal age of maturity in his or her country of residence, but older than 16 years of age (i.e. having lived for at least 16 calendar years after date of birth as of the Tournament start date) may participate with consent from parents or legal guardians.
4. In order to participate in the National Championship, all players in the team must be a legal citizen or resident of the same region (e.g. All registered players in your team must be legal citizens or Current resident of the BD to play in BD region).
5. Players are only allowed to use mobile devices during the tournament (including the in-game qualification round), and players that use tablets or a PC emulator will be disqualified.
6. Team Rosters must consist of at least 4 players during the in-game qualification round.
PMNC 2021 REGISTRATION FAQS
What are the phases of the tournament?
Tournament phases: Ingame Qualifiers (7th Jun - 13th Jun)
Group Stage (24 Jun - 4 Jul)
Semi Finals (9 Jul - 18 Jul)
Grand Finals (22 Jul - 25 Jul)
Ingame Qualifiers - starts from 7th June to 13th June. Here 3 matches will commence everyday for 7 days, each day having the matches as - Match 1 : Erangel, Match 2 : Miramar , Match 3 Sanhok. The top 2 scores from Each map will be counted. ( for e.g out of 7 erangel maps played, the top 2 will be counted as your score. and accumulating all 3 maps - total score of 6 matches will be counted)
Group Stage - Top 32 Teams from the ingame qualifiers will play the group stages. 32 teams are divided into 4 groups. Each group will play 24 matches. The top 24 teams from overall leaderboard will qualify for semi finals.
Semi Finals - Top 24 Teams are divided into 3 groups of 8 teams each. Each Group plays a total of 20 matches. The top 16 from overall leaderboard will qualify for finale
Grand Finals - The top 16 teams will play for over 4 days with a total of 24 matches.
What will be the timings of the in-game qualifiers?
The timings for the matches each day will be as follows : Erangel - 14:00 PM Miramar - 15:00 PM Sanhok - 16:00 PM
How to Join In-Game Qualifiers?
Make a crew in game with 4 players. and then Register your crew(Team) with the exact team name in registration page
Criteria To participate:
All squad members have to be of level: 30 above and rank Platinum V & above, for player to be eligible to play
Can i use IPAD instead of a Mobile Phone
No, only mobile phones are allowed in the tournament.
Can i use Trigger or Emulators
No, triggers and emulators or any other add-on devices are strictly prohibited. Team/players will be disqualified if found to be using additional devices.
Can i use substitutes who are not registered once the tournament starts?
No, you can't use unregistered players once the tournament begins.
How does the point distribution Look Like
You can find the scoring criteria and distribution in the Rulebook (https://esports.pubgmobile.com/Documents/).
CAN I CHANGE THE TEAM NAME AFTER REGISTRATION SUBMISSION?
The team name cannot be changed after registration. The submitted name will be used for further proceedings until the next round of qualifications. You can mail us your concerns for further clarifications at support@pubgmobilepakistan.com
ELIGIBILITY CRITERIA FOR THE EVENT?
Citizen of Pakistan / Resident of Pakistan Minimum age – 16 years Valid ID proof
HOW TO REGISTER BELOW 16 YEARS WITH GUARDIAN CONSENT?
As per the rule book, all players need to be above 16 years of age. You have to be 16 years as of 16th May, 2021 to be eligible to participate.