Shabbir Iqbal triumph 10th Rashid D Habib Memorial National Professional Golf title
The best professional golfer of Pakistan Shabbir Iqbal stamped the title of Bank Al Habib's 10th Rashid D Habib Memorial National Professional Golf Tournament 2021 at Karachi Golf Club.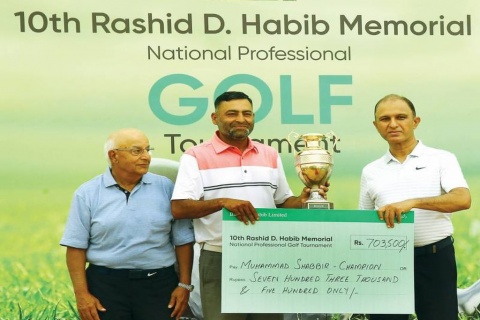 The top ranked player of Pakistan Shabbir Iqbal, occupied the top of the leader board by showing excellence in application of golfing skills and ended up triumphant with a cash purse of 703,500 rupees. All three days of the tournament, Shabbir kept an intimidating presence on his opponents through scores that had previously been unmatched in precision and fineness.
Shabbir topped the leaderboard with the stunning score of 275, 13 under par.
After winning the title, Shabbir Iqbal said:
"I played my best and Allah Almighty rewarded me. I am thankful to Bank Al Habib for their utmost cooperation with golf and golfers in our country."
Ahmed Baig also played valiantly and finished as first runner-up with the score of 178, 10 under par. Muhammad Ashfaq seized third position with the score of 280, 8 under par. They were paid PKR 703,500, PKR 454,930 and PKR 281,400 respectively as their share out of the total prize money of PKR 7.9 million.
Winner for the last two consecutive years Matloob Ahmed tied fifth position with Taimoor Khan by scoring 283, 5 under par. They individually pocketed PKR 185,255 as prize money.
Tahir Naseem and Irfan Mehmood tied the senior professional category title with a score of 144. Iftikhar Ahmed captured the third slot with a score of 145. Abdul Wadood won the junior professional category with a score of 147, 3 under par and was paid PKR 47,500 as prize money.
Muhammad Saqib secured the second position to receive PKR 37,500 while Akash scored 153-3 to win PKR 30,000 and third position.