Red Bull Homerun 2021: Pakistan to host the ultimate Ski and Snow Race on 13th February
Red Bull is all set to bring the largest winter sports event – Red Bull Homerun – in Pakistan on February 13 at Malam Jabba Ski Resort in Khyber Pakhtunkhwa (KPK).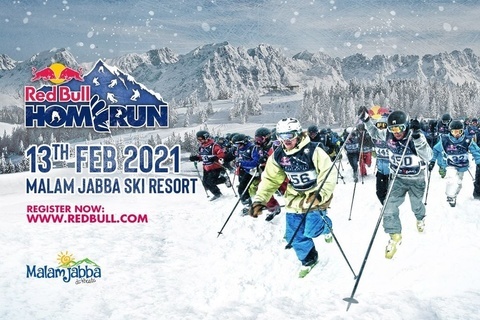 Red Bull Homerun 2021
Malam Jabba Ski Resort
As the snow accumulates over the mountains, it's the perfect time to get your skis and snowboards out and race to the finish line at the first Red Bull Homerun in Pakistan.
Red Bull is all set to bring the largest winter sports event – Red Bull Homerun – in Pakistan. The inaugural event will be Red Bull's first event of the year 2021 and is to be held on February 13 at Malam Jabba Ski Resort in Khyber Pakhtunkhwa (KPK).
The event is being held in collaboration with KPK Culture and Tourism Authority and Malam Jabba Ski Resort to promote winter sports in Pakistan. Pakistan, for the first time, will join 14 countries that will be doing Homerun in 2021.
The event's registrations are opened from January 5, 2021, and will remain open till the event date on February 13, 2021.
Red Bull Homerun's inaugural event at Malam Jabba Aki Resort will be open for all. Not matter you are a local skiing lover, a professional ski and snowboard athlete, or a tourist winter sports fan, all you have to do is get yourself registered and arrive at the venue.
Visit the link below for REGISTARTIONS:
https://redbull.jotform.com/form/193563906984070
For any query, Malam Jabba Ski Resort can be contacted at 0301-8480107.
The concept of Red Bull Homerun, a unique ski and snowboard event, is simple. From the top of a snowy mountain, participants sprint for their skis and snowboards, clip in, and then race down a marked course to the finish line.
The race will be on slope where the participants will be going through 100-150m sprint before the starting point and the finishing line is from 2 km - up to 6 km away that will take around 4-7 minutes to complete the race. The participants will be divided into badges, according to their age group and gender.
The participants will get a chance to win five different titles in ski and snowboard events. The Fastest Women on Board, Fastest Men on Board, Fastest Women on Ski, Fastest Men on Ski, and a unique prize to watch out for will be for the 'Best Costume'. The participants can create a unique costume as they can to stand out among the thousands of participants.

Malam Jabba Ski Resort is located at the slope with a rich history of holding Winter Sports events since 1980. The resort's brand manager Samar Sabeen believes Red Bull Homerun will be a special attraction for winter sports lovers.

"Malam Jabba Ski Resort has been holding multiple national and international winter sports events since 2016. Now that Red Bull is bringing its unique competition 'Homerun', this will be a point of attraction for the participants and the winter sports lovers." Samar Sabeen said.
Further, Red Bull Homerun is being held under the directions of Air Commodore (Retd.) Shahid Nadeem, a prominent name in Pakistan's winter sports who has been associated with such events and activities for the last 28 years; he is the Project Director Red Bull Homerun, a former secretary of Winter Sports Federation and now Convener, Adventure Group National Tourism Coordination Board.
Nadeem shared that they held multiple events in the year 2020 and are looking forward to much more in the year 2021.
"We will be holding the International Snowboarding Festival in the beginning of next year where international athletes would be participating, but Red Bull Homerun will be an event to watch out for as this is the first winter adventure sports being held in Pakistan in 2021."
He continued, "As Red Bull is holding the event, it will attract many more athletes and fans. Malam Jabba is the only resort where we have all facilities and infrastructure. We need to build similar at other points too. This is really important as once tourists come and if there isn't proper infrastructure, then they won't return."
He further said that such spots are now becoming popular as otherwise there was not much tourism in winters.
"With companies like Red Bull coming forward to support tourism and winter adventure sports here in KPK, there will be a positive impact in Gilgit-Baltistan and Azad Jammu Kashmir areas."