Profligate Pakistan go down to Malaysia, fall out of top-four race
Pakistan were made to pay for their missed chances as their hopes of a top-four finish in the round-robin stage and a subsequent bronze medal match at the Sultan Azlan Shah Cup fizzled out following a 1-0 defeat to Malaysia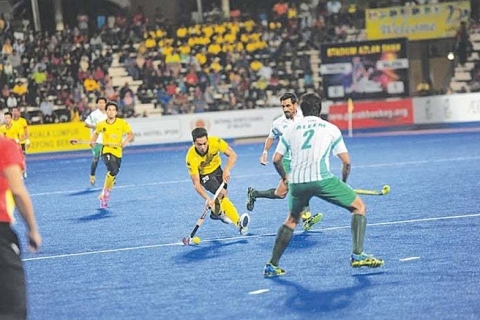 25th Sultan Azlan Shah Cup
Malaysia
Pakistan were made to pay for their missed chances as their hopes of a top-four finish in the round-robin stage and a subsequent bronze medal match at the Sultan Azlan Shah Cup fizzled out following a 1-0 defeat to Malaysia on Wednesday.
The defeat left Pakistan in sixth place on three points from five games, five behind the hosts who occupy fourth spot ahead of their final match against India.
India are third, a point ahead of Malaysia, after they fell to a 2-1 loss against defending champions New Zealand earlier in the day.
New Zealand have played all their six matches and lie second in the table with 11 points, four behind Australia who maintained their perfect record with a 3-1 win over Japan.
While Australia have sealed top spot and a berth in the final, the second spot is up for grabs with New Zealand facing a nervous wait till the last round of matches with India facing Malaysia on Friday.
While India can finish second with a win against the hosts, Malaysia can also qualify for the final with a big win against Sardar Singh's men.
Malaysia coach Stephen van Huizen, though, was coy about his side's chances of reaching the final.
"We have to beat India by a huge margin but we should rather concentrate on playing a good game," he said after the win against Pakistan with his side still in danger of losing fourth place if they lose to India and fifth-placed Canada (five points) beat Australia on the same day.
While the two teams automatically qualify for the final, the third and fourth ranked teams play the bronze medal match after the conclusion of the round-robin competition.
After skipper Mohd Razie Rahim scored the only goal with a direct flick off their first penalty corner attempt in the third minute, Malaysia lived dangerously and hung on dearly to their lead as Pakistan squandered half a dozen chances in the last quarter.
Laying seize on the Malaysian circle in the last 10 minutes, Pakistan could have benefitted from a few defensive errors, but the home team managed to weather out the storm.
Rahim's mistake in clearing the ball from inside the circle in the 51th minute could have cost Malaysia dear, but he made a desperate lunge to defend and suffered a painful blow on his hand.
Down to 10 players when Izad Jamaluddin was sent off for a deliberate foul, Malaysia should have tried to slow down the game, but they chose to go out looking for another goal and seemed to have played into Pakistan's hands.
Pakistan, however, failed to capitalise and they will hope for a consolation win against winless Japan on Friday.
Earlier, Australia rode on a double by Jamie Dwyer to overcome Japan while goals from Ken Russell (28th minute) and Nick Wilson (41st) clinched victory for New Zealand against India, whose only goal came from Mandeep Singh in the 36th minute.

(Source: Dawn News)