Pakistan's top lady golfer, Aania inspiring young girls to pick up golf clubs
The number one lady golfer of Pakistan, Aania took up the sport at the age of 12, and has bagged 40 titles and change the concept of the people of Pakistan who earlier thought golf is for old people only.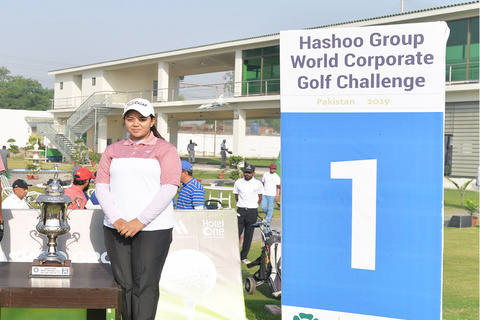 When a player begins playing a sport, it usually takes him or her years to win their first title, but the then 12-year-old golfer Aania Farooq surprised all when she won her first trophy in the same year when she began playing.
She also achieved the next target of becoming the first professional lady golfer of Pakistan, and she had to make good strides for it.
After having an interest in football at an early age, the teenager decided to switch to golf following injuries in football.
"I used to play football, but as it involves injuries, I decided to switch to golf in January 2012 as this is a gentleman's sport," 17-year-old Aania, the daughter of the project director and former secretary of Airmen Golf Club and Recreational Park, Ahmed Farooq said.
Aania, who now considers the golf course as her second home, spends around 10 hours a day practising. "I started playing at the Airmen Gold Club where my father was the secretary. He used to take me along and that was the first time I happened to visit a golf course. First, my father used to force me to go with him to the course and now he asks me to come back home early," she said.
It took only a few months for the young golfer to win her first title. She began playing in January 2012 and won her first title in her fourth event of the same year by winning the 2012 Independence Day Golf Open, at the age of just 12.
The number one lady golfer of Pakistan, who recently won the ladies event at the UMA Chief of Naval Staff (CNS) Asian Tour Open Golf Championship, has bagged 40 titles after playing more than 100 tournaments.
She is currently the holder of National Ladies Amateur Golf Championship 2017 title which according to her was her biggest achievement till date.
Click here to view Aania Farooq's player profile
"I was really excited to win the first title and that was when the interest for the game developed even more," said Aania. This was after the two months of training with her coaches Ghulam Bashir and Muhammad Ashfaq who recently finished second in the Pro event of UMA CNS Golf Open.
"Bashir has helped me with improving my skills, developing my muscles for the game and making me mentally strong, while Ashfaq has helped me improve my game. I have been playing with him since 2012 and by playing with a professional I have learned a lot," she said.
The golfer who has recently completed her college now gives around 10 hours a day to the game, while earlier she used to practice for only two to three hours a day. "Now that I have completed my college, I have enough time to practice and now my aim is to become a professional by the end of this year," she said.
She added that now she takes lessons from Bashir twice a week and then practices them in the remaining days on her own. "I want to practice for the maximum time so that I can become a professional golfer by the end of the year and then take part in the international tournaments next year."
She was well supported by her teachers of City School PAF Chapter who allowed her to take part in the championships and reschedule her exams.

The coach, Bashir, while talking about the uniqueness of the young golfer said, "The time she gives to this game is the reason for her success. She has developed her body according to the need of the game which has improved her distance and impact.
"She has changed the concept of the people of Pakistan who earlier thought golf is for old people only, but now following Aania, who is young and has much time to become a professional, more players are coming forward," he said, adding that the credit goes to her family who allowed her to pursue golf.
He said that here in Pakistan the ladies don't spend much time on the course to practice but now after Aania, many young girls are coming. "We don't have professional ladies here, all are amateur, but now many are coming with the aim to become professional players," Bashir said, mentioning the 16-year-old Amna Amjad, who is another top golfer in the making right behind Aania.