Pakistan seek Azlan Shah Cup turnaround against India
Pakistan could do a massive favour to their hopes of a medal at the Azlan Shan Cup with victory over arch-rivals India in a high-voltage clash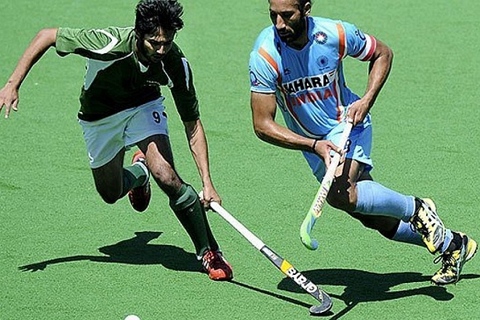 25th Sultan Azlan Shah Cup
Malaysia
Pakistan could do a massive favour to their hopes of a medal at the Azlan Shan Cup with victory over arch-rivals India in a high-voltage clash here on Tuesday.
With just one win in three matches and heavy losses against defending champions New Zealand and world champions Australia, Pakistan have just three points.
But win against third-placed India and they will draw level on six points with their biggest rivals.
Australia (nine points) lead the round-robin league with a perfect record of three wins out of three and lead New Zealand, who have played a game more, by a point.
The Trans-Tasman rivals also face-off on Tuesday and if New Zealand were to lose, victory for either Pakistan or India will put them right back in contention.
The top two teams at the end of the round-robin league advance to the final. There is also a medal on offer for teams finishing third and fourth in the bronze medal playoff.
"We will try our best to win our remaining three matches," Pakistan coach K.M. Junaid said after Sunday's 4-0 hammering by Australia.
"The game against India is just another game in the tournament, albeit an important one," he added, deflecting the hype that surrounds any sporting encounter between Pakistan and India.
Having beaten Canada 3-1 in their opening match, Pakistan's campaign was hit by a 5-3 loss to New Zealand but they remain optimistic about their chances with matches against hosts Malaysia and winless Japan to follow after the India clash.
And Junaid wants his players to rise to the occasion against India.
"The match against India will be a turnover game," said Junaid. "The team that manages to defend the counter-attacks better will have an edge. "We are now trying to rebuild our squad. What is important is that we follow our game-strategy, play in a structure and show unity in the field."
Pakistan failed to qualify for the Olympics in Rio this year, but are high on motivation to edge past their sub-continental rivals.
The two teams last faced each other at the Hockey World League (HWL) Semi-Finals in Antwerp, with the game ending 2-2. India went on to the semi-finals of the event, while Pakistan's hopes of Olympic qualification were dashed by a loss to Ireland.
Pakistan will be missing from the quadrennial extravaganza for the first time since their maiden appearance in 1948 as the team's rebuilding continues from their debilitating failure to qualify for the 2014 FIH World Cup.
Pakistan have brought eight young players from the squad that recently won the South Asian Games gold medal defeating India in the final.
India did not field its main squad in the South Asian Games and the top players were then playing in the cash-rich Hockey India League and were allowed to skip the tournament.
India finished with a bronze in last year's Azlan Shah Cup but their performances this year have been scrappy and scratchy.
Having opened with a 2-1 win over Japan, they were hammered 5-1 by Australia before they got themselves back on track with a 3-1 win over Canada on Sunday.
Head coach Roelant Oltmans has a young team that hasn't been consistent so far but he's aware of what victory against Pakistan could do to the team's morale.
"The whole of India is waiting for the next game, but I keep telling the boys that this is just another game," said the Dutchman.
"We should maintain focus on our game just like in any other match. We have a tough schedule starting with the match against Pakistan."

(Source: Dawn News)