Anita Kareem, Irfan Ahmad win ONE Warrior Series 10 bouts
Anita Kareem and Irfan Ahmad won their bouts by unanimous decision at ONE Warrior Series 10 event held in Singapore.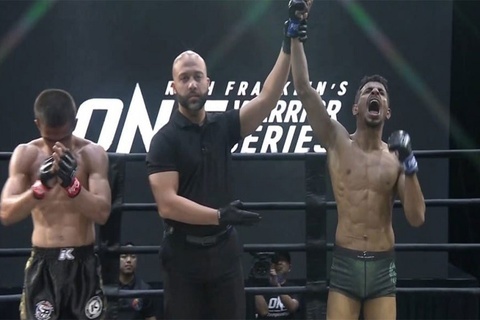 Pakistan mixed martial arts (MMA) prize fighters Anita Karim and Irfan Ahmed won their bouts of ONE Warrior Series 10 by unanimous decision in Singapore.
Anita dominated Estonia's Marie Ruumet from the first bell and easily won on the judges scorecard after three impressive rounds. The first international female MMA fighter from Pakistan improved her record to (2-1).
Irfan Ahmad, meanwhile, won his second professional Mixed Martial Arts bout via unanimous decision. Irfan fought Team Quest's Thailand prospect Peter Danasoe and won one of the most exciting matches of the night that was in the running for fight of the night.
The back and forth battle show cased all aspects of mixed martial arts, with the punches, elbows, knees and kicks utilized as the athletes traded blows standing, and slams and submission attempts on each other. However, the turning point in the judges mind for granting the decision to Irfan may have been a knockdown scored at the end of the 2nd round, as well as being able to finish in a super ground position at the end of the match.
Both Irfan and Peter were selected by Rich Franklin on his travels around Asia looking for the region's top talents. Rich Franklin spent one week in Pakistan, and alongside Irfan, had featured episodes on Pakistani MMA pioneer Bashir Ahmad, also known as the Godfather of Pakistani MMA, as well Pakistan's first female MMA fighter Anita "The Arm Collector" Karim.
Irfan comes from humble beginnings and was raised in a middle-class family outside of Chiniot. After overcoming asthma Irfan became quickly obsessed with martial arts and decided to train with Bashir Ahmed in Lahore.
Irfan is now the captain of Bashir Ahmad's "Team Shaheen" which is a gym in Charrar Pind, Lahore. Irfan, at 24 years old is the oldest member of the team and a mentor to his teammates. Team Shaheen is one of the fastest rising teams in Pakistani MMA by not only developing martial arts talent but by providing education for some of its team members as well as professional grooming for the future.

Irfan will now be traveling to Thailand to train with Bashir Ahmad at some of the top Mixed Martial Arts training camps of the world before his next fight is announced in the next few months.
Pakistan's third fighter on the card, Shahzaib Rindh, lost his kickboxing bout against Sasha Moisa of Ukraine by a knockout. After starting the fight brightly "The King" ran out of steam against the experienced Ukrainian who landed several heavy blows to K.O the Pakistani fighter.