Peshawar born, Nosherwan Khanzada to take on Vadim Valujev at Rebel FC 2020 on 11th January
Pakistani fighter, Nosherwan Khanzada will be facing Vadim Valujev of Lithuania in an MMA Fight at Rebel Fighting Championship 2020 scheduled on 11th January in Moscow, Russia.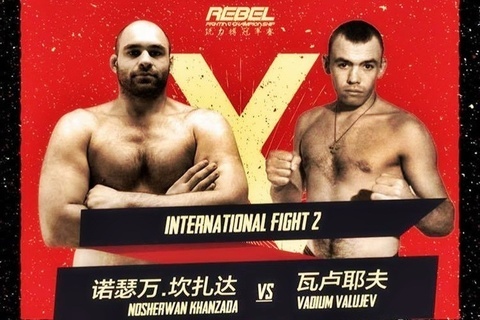 MMA fighter, Nosherwan Khanzada is all set to take on an Lithuanian's Vadim Valujev in an MMA fight at Rebel Fighting Championship 2020 which is scheduled to take place on 11th January in Moscow, Russia.
Nosherwan hails from Peshawar Pakistan and currently resides in Hong Kong.
He has featured in over twenty professional MMA fights and over forty Kickboxing fights. Khanzada started his journey at the age of 15 when he was introduced to Taekwondo by a friend at school and caught the bug. He has trained in Kyokushin Karate and holds a green belt under Eric Wan in Hong Kong.
The Pakistani fighter picked up Muay Thai at the age of 19 and started competing locally and internationally where he found success. While at the age of 21, he started to train Brazilian Jiu Jitsu and started competing in MMA.
Nosherwan is currently a Brazilian Jiu Jitsu black belt under Rodrigo Caporal who is his mentor. Rodrigo Caporal is a very active Brazilian Jiu Jitsu and MMA competitor who heads his team at Espada Studio in Hong Kong.
For this fight, Nosherwan started his training camp in Hong Kong with his mentor Rodrigo Caporal and later traveled to Singapore where he joined his good friend Faizan and they both then traveled to Pakistan to train at the famous gym named, Infinity MMA with local talent such as Ahmed Mujtaba at Kaks MMA under the guidance of Nasir .
It was a new experience for Nosherwan to train with local talent to prepare for his upcoming bout and had praises for the local talent. He was impressed with their hard work and dedication towards the sport even with the lack of proper equipment or guidance.
Khanzada will head back to Hong Kong to finish his training with his mentor before he heads off to Russia. He wants to bring victory to Pakistan and start this year with success!