Zia Mashwani to take on Abdullah Al Qahtani at 'Brave 33' in Saudia Arabia
Zia Mashwani is all locked and loaded to fight Saudia's Abdullah Al Qahtani in his second career bout at Brave 33 which is scheduled for today in Jeddah, Saudia Arabia.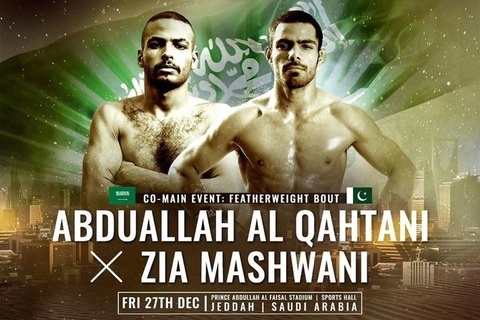 The 'Brave 33' will be held at the Prince Abdullah Ali Faisal Stadium, Sports Hall in Jeddah, Saudia Arbia where a featherweight bout is scheduled between the Pakistani MMA fighter, Zia Mashwani and the host country's very own, Abdullah Al Qahtani.
BRAVE Combat Federation is one of the fastest-growing MMA organization in the world. The organisation has traveled to three different countries, in three different regions of the world, where 'Brave 33' is its last event in Jeddah, Saudia Arabia.
Born on December 16, 1995, Zia "The Mashwani Warrior" Mashwani is training out of Fight Fortress Islamabad who holds a fighting record of two wins, one loss and no draws. He made his professional MMA debut at "Brave 17" at the Nishtar Park Sports Complex in Lahore on October 27, 2018.
Mashwani competed at "Brave 17" in the featherweight division against "The Eagle" Yibugele of Inner Mongolia, China where the Chinese fighter won via knockout in the third round.
The Pakistani fighters' two triumphs have come against Samiullah Shahi in Flogger Series by unanimous decision and Haroon Durrani in VCL - Spring Mania by KO.
Whereas his counterpart from Saudia Arabia, Abdullah Al Qahtani, would be participating in his third career bout at Brave 33 and holds a professional MMA record of 2-0-0 (Win-Loss-Draw).