Electrifying WAPDA team thrash Customs 5-0 to clinch National Junior Hockey C'ship 2019
WAPDA outplayed and outclassed Customs by 5-0 to lift 36th edition of National Junior Hockey Championship 2019 trophy at the National Hockey Stadium, Lahore.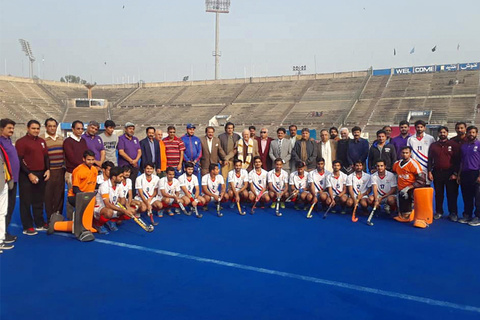 36th National Junior Hockey Championship 2019
National Hockey Stadium, Lahore.
A one sided final of successfully concluded 36th edition of National Junior Hockey Championship 2019 was seen between WAPDA and Pakistan Customs at the National Hockey Stadium, Lahore.
The first quarter was thrilling one, where WAPDA started on a strong note but Customs had the better scoring chances. However, none of the two teams could find the goal as the score stood 0-0 after the first 8th minutes of play.
WAPDA broke the deadlock in the 9th minute through Ibrar Hussain who was left unmarked and made no mistake in giving WAPDA the lead. Customs then failed to convert a penalty corner but kept the ball alive.
WAPDA began to take hold of the game in the second quarter and continued their dominance as they netted another field goal through Yasir in the 23rd minute to double their lead.
From that moment on, WAPDA did not let up and overwhelmed their opponents as they created several chances for themselves. WAPDA took a big advantage in the third quarter when Hammad Anjum scored for his side to give them a three-goal lead.
WAPDA's players were more severe in the fourth and last quarter, as they thrashed two more goals which gave them an easy 5-0 victory on aggregate. This time, Rana Waheed and Waqas Butt were goal scorers from the winning side.

Meanwhile, SSGC defeated Punjab A 4-2 in the third-place match.
Pakistan Hockey Federation (PHF) President Brig (R) Khalid Sajjad Khokhar and former PHF Chief Chaudhry Akhtar Rasool graced the concluding ceremony as chief guests and distributed prizes and trophies among the position holders.
Other notables present on the occasion were former Olympian and golden player of his era Manzoor Ahmad Junior, Khalid Hameed, Waseem Feroze, Qasim Khan, PHF Secretary Asif Bajwa and others.