36th National Junior Hockey Championship begins with one sided affairs
One sided matches were witnessed on the first day of 36th National Junior Hockey Championship 2019 which is being held at National Hockey Stadium, Lahore.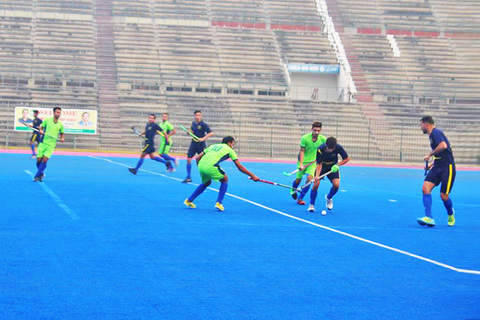 36th National Junior Hockey Championship 2019
National Hockey Stadium, Lahore.
On the opening day of 36th edition of National Junior Hockey Championship 2019, seven matches were decided which remained lopsided affairs at National Hockey Stadium, Lahore.
In the opening match of the day, a solitary goal from Jibran in the 7th minute helped Khyber Pakhtunkhwa-A beat Army-B by 1-0.

After earning an early lead Khyber Pakhtunkhwa-A relied on their defensive approach and Army-B's frailty in the attack to come away with an unlikely win. Though Army launched a number of counterattacks, it was not their day as poor finishing deprived them of an equaliser.
A hat-trick each by Mohammad Anees and Abdul Rehman inspired MPCL demolition of Azad Jammu and Kashmir 17-0.
Anees struck goals in the 2nd, 32nd and 36th minutes while Abdul Rehman banged home in 42nd, 51st and 58th. Arshad Liaqat (3rd, 29th), Shuaib Khan (17th, 41st), Mohammad Abdullah (20th, 44th) and Afraz (1st, 30th) scored a brace each. Umair Sattar (18th), Arbaz Ahmed (28th) and Ahtisham Aslam (49th) complete the rout of AJK.
Meanwhile, a superb five-goal show by Arslan Haider guided Sindh-B to a 15-0 victory over Gilgit in another blowout of the day.
Arslan fired goals in the 12th, 14th, 22nd, 24th and 51st while Mohammad Shahzaib (21st, 29th, 60th), Haris Naseer (18th, 41st), Aliyan Ahmad (39th, 58th), Babar Sadiq (49th), Hammad Ajaz (5th) and Sultan (16th) also struck goals.
In another match, four goals by Roman Khan helped WAPDA maul Punjab-D 12-1. Roman slammed goals in 6th, 26th, 27th and 45th minutes. Ali Aziz (11th, 48th), Hassan Saleem (31st, 43rd, 50th), Hammad Anjum (1st, 48th) and Mohammad Hussain (51st) were the scorers.
Four goals by Abdul Rehman powered Port Qasim Authority to a 6-2 win against Balochistan. Abdul Rehman found the net in the 1st, 4th, 48th and 59th minutes. Hans (33rd) and Bilal (48th) were the other scorers. For Balochistan, Waqeel Ahmed (55th) and Abdul Wajid (60th) found the net.
Husnain Shahid pumped in four goals to help Punjab-A to blank Islamabad 5-0. Husnain scored in the 4th, 54th, 55th and 56th minutes. Mohammad Bilawal (14th) chipped in with one goal.
In another one-sided match, Army-A carved out a 10-0 victory against Punjab-B.
Shahid Ali struck four goals in the 16th, 17th, 30th and 59th minutes. Usama Irfan (21st, 53rd), Mohammad Usman (49th, 51st), Mohammad Umer (20th) and Muzammil Hussain (35th) were the other scorers.
The championship continues on Friday with seven more matches to be played at the same venues.
Date

Timings

Fixtures

Pool

Results










28 NOV 2019

09:00 AM
KPK (A) Vs ARMY (B)
C
KPK beats army 1-0
11:00 AM
PUNJAB (A) Vs ISLAMABAD
A
Punjab (A) beats Islamabad 5 – 0
11:00 AM
MPCL Vs AJK
C
MPCL beats AJK 17 – 0
01:00 AM
ARMY (A) Vs PUNJAB (B)
B
Army beats Punjab (B) 10 – 0
01:00 PM
WAPDA Vs PUNJAB (D)
D
WAPDA beats PUNJAB (D) 12- 1
03:00 PM
PORT QASIM Vs BALOCHISTAN
B
Port Qasim beats Baluchistan 6-2
03:00 PM
SINDH (B) Vs GILGIT
D
Sindh beats Gilgit 0 - 15