Pakistan to face Hungary in their last group fixture of 2nd Socca World Cup
The last group fixture of Pakistan against Hungary in Socca World Cup 2019 will take place today in Crete, Greece.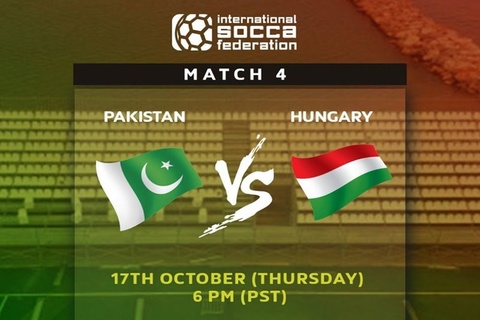 2nd Socca World Cup
Crete
Team Pakistan have been facing severe blowouts in their last group games, where the boys in green first fell to Slovenia by 5-1 and then were thrashed by Romania on even worst score line of 5-0.
However, Pakistan's yesterday performance against the world champions, Germany was too different as the team attempted to overturn the game but eventually fell by 3-2 which was't so much of an embarrassing blowout for the green shirts.
Pakistan team's international Coach, Kevin Reeves and all the players alongside Pakistani supports, hope to regain triumph in the 4th and last group fixture against Hungary that will be played today at sharp 06:00 PST.
The match will be broad-casted live by Leisure Leagues PK's official Facebook Page which can be found by clicking on this link: https://www.facebook.com/leisureleaguespk/
International Socca Federation (ISF) has organized the second edition of the six-a-side Socca World Cup which is featuring several talented nations whose teams are seen competing with all their skills and talent so as to stand as the sole title taker of this mega international event.