2nd Socca World Cup: Pakistan VS Romania | Today
Pakistan Socca Team is to take on Romania today in their second group match of Socca World Cup 2019 in Crete, Greece.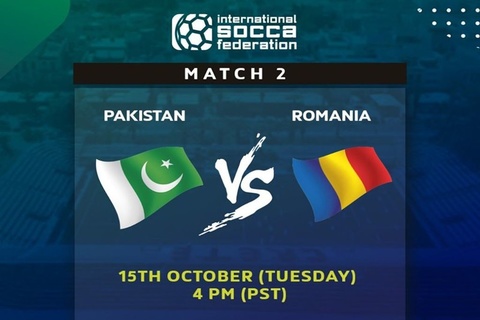 2nd Socca World Cup
Crete
Pakistan Socca Team faced an embarrassing blowout in their first group game when they went down to Slovenia yesterday on the final score line of 5-1.
Now the green side is set to compete against Romania in their second group match today that would begin its proceedings from sharp 04:00 PST and will be broad-casted live on Leisure Leagues PK's official Facebook Page which can be found by clicking on the following link:
International Socca Federation (ISF) has organized the second edition of the six-a-side Socca World Cup which is featuring several talented nations whose teams are seen competing with all their skills in the sport so as to take home the title of this mega international event.
Last year, Lahore's ICAW represented Pakistan in the inaugural edition of Socca World in Portugal and won Fair-Play award for Pakistan as well and this time, Bata Football Club have earned the right to represent Pakistan in the second edition of Socca World Cup.
Pakistan have been placed in Group 'H' along with Slovenia, Germany, Hungary and Romania. After today's encounter, Pakistan team will have its second match against Romania tomorrow. On October 16, Pakistan will clash with a strong side, Germany, which won the inaugural edition of the Socca World Cup last year in Portugal and in its last group match, Pakistan will take on Hungary on October 17.
The semifinals, third place play-off and the summit clash are scheduled for October 20.