Pakistan Football Team departed for Greece to feature in Socca World Cup 2019
Pakistan is all set to compete against Slovenia in their first group match of 2nd Socca World Cup which would be held from 12 to 20 October in Crete, Greece.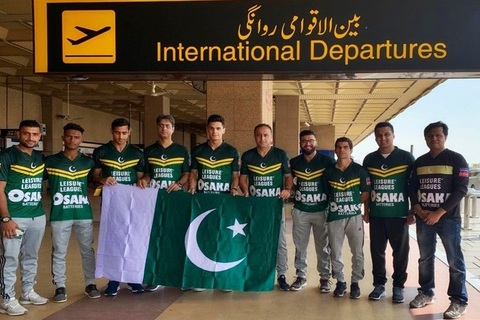 2nd Socca World Cup
Crete
Pakistan National Socca side departed for Greece where the team will play matches against four counterparts in the upcoming 2nd Socca World Cup which is being organized by International Socca Federation (ISF) and set to kick off tomorrow in Crete.
Pakistan has been placed in Group 'H' along with Slovenia, Germany, Hungary and Romania. Pakistan will open their World Cup campaign with a match against Slovenia on October 14 and will then take on Romania the following day. The next match would be a clash with a strong side, Germany, that won the inaugural edition of the Socca World Cup last year in Portugal. While in its last group match, Pakistan will take on Hungary on October.
The semifinals, third place play-off and the summit clash will be played on October 20 along with the closing ceremony.
The team will also get the opportunity to practice and acclimatize in Greece before the mega small-sided football tournament begins and the UK based head coach, Kevin Reeves will also join the team in Crete. Meanwhile Assistant Coach, Gohar Zaman has left from Musqat to join the team in Crete.
Pakistani Socca Squad:
Muhammad Ali, Shaban Hussain, Irfan Khan, Ali Haider, Kareem Keraye, Shahab Raza, Daniyal Mirza, Meeran Saifi, Affan Siddiqi, Habib Ur Rehman, Mohammad Waheed, Hassan Bashir and Yousuf Butt.
Team Officials:
Syed Ishaq Shah (COO Leisure Leagues), Zabe Khan (Manager), Syed Sharoze Rizvi (Assistant Manager), Kevin Reeves (Head Coach) and Gohar Zaman (Coach).
Last year, Lahore's ICAW represented Pakistan in Socca World in Portugal and won Fair-Play award for Pakistan as well and this time, Bata Football Club have earned the right to represent Pakistan in the second edition of Socca World Cup.