Lightening Strikers FC triumphs in Karachi region trails for F5 World Championship 2019
In Karachi qualifiers of F5WC Pakistan, Lightening Strikers FC have taken the spot to emerge as the regional winner at Rahat Football Ground.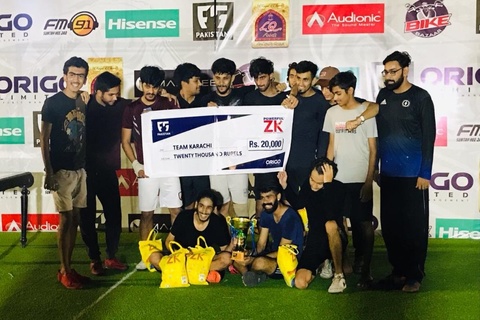 F5WC World Championship 2019 (Pakistan)
Total Football Ground
F5WC Pakistan organized a Karachi tournament that brought a chance for the local football talent of Pakistan to prove their talent in the trails so as to get selected for F5 World Championship 2019.
The trials were kept open for all with no age limit where uncountable teams participated, players from whom were seen competing with all their skills so as to emerge Karachi region winner.
But it was the footwork of Lightening Strikers FC on the field along with their incredible game play strategy that made other teams struggle for the victory which resulted in Lightening Strikers triumph in the final game.
Lightening Strikers FC have now confirmed a spot in the National Finals as Karachi region winner alongside five other qualified teams which are: PAK Afghan FC from Peshawar, Quetta Sports and Seri Friends of Quetta and Mirpur (AJK), respectively and last but not the least; Islamabad winners: Team Eighteen.

Each of the city champion now move on to the National Finals where one team will be crowned TEAM PAKISTAN and that team will be then given a once in a lifetime opportunity to travel to South Africa in November to play with the international teams in F5WC World Cup 2019.