British-Pakistani fighter, Furqan 'The Lion' Cheema secures his 3rd professional MMA triumph
Furqan "The Lion" Cheema, British-Pakistani fighter triumphed over his counterpart, Watkins in the first round to win his third professional MMA bout at Risk Fight League (2019) that concluded in Morley, Leeds.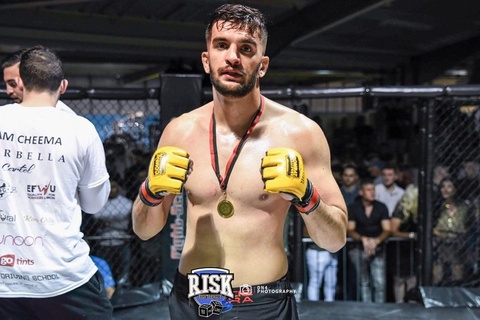 The Risk Fight League (2019) held in Morley, Leeds featured several skilled fighters among which, one of the talented MMA fighters stood Furqan Cheema, representing Pakistan against English counter, Watkins.
The fight started with Watkins throwing some exciting kicks but Cheema remained calm and stalked his opponent catching some incredible 1-2s and control against the cage.
The fight later went to the ground by Watkins gaining a trip on Cheema upon which he threw some vicious elbows that busted Cheema's nose and produced a cut on his head but with adversity, Cheema turned his opponent away from full mount and jumped into side control.
The fight then lead back to stand up to a position where the Pakistani fighter landed a knee and executed a finish with flurry of punches with the fight being stopped by the referee at 1 minute 58 seconds which resulted in Cheema's victory by TKO via 1st round.
This win has secured Furqan a contract with one of the biggest management team: MTK Global who have the likes of Tyson Fury in boxing and UFC fighter, Darren Till in MMA. Furqan is expected to be back out at the end of this year and hoping to continue his stride.

To his third consecutive win, the British-Pakistani fighter said,
"Just want to say thanks to my coaches Tanny Hussain, Jamie Paxman and my brother, Saif Cheema, who cheered for me from the corner of the fight ring, supporting me and shout out to my team mates who have helped with prepare for this fight. A big thank you to my sponsors and everyone who came to support. Thanks to Danny Mitchell for a good show and everyone who was involved."