Pakistani MMA fighter, Zia Mashwani to face Jon Chris Corton at 'Brave 27' in Abu Dhabi
Zia Mashwani, Pakistani MMA fighter and Filipino counterpart, Jon Chris Corton, both are set to make their strong comeback at Brave 27' on 4th October in Abu Dhabi, United Arab Emirates.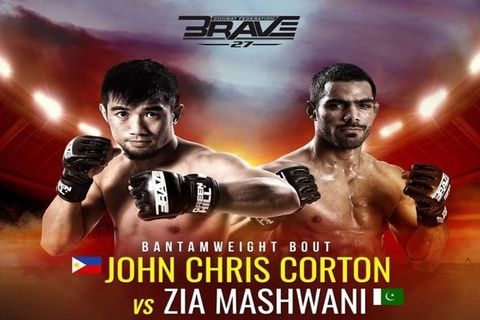 Brave Combat Federation will hold "Brave 27" at the Mubadala Arena in Abu Dhabi, United Arab Emirates on 4th October, 2019 in which one of the fights is a bantamweight bout between Filipino fighter, Jon Chris Corton and Zia Mashwani of Pakistan.
Born on December 16, 1995, Zia "The Mashwani Warrior" Mashwani is training out of Fight Fortress Islamabad who holds a fighting record of two wins, a loss and no draws. He made his professional MMA debut at "Brave 17" at the Nistar Park Sports Complex in Lahore on October 27, 2018.
Mashwani, the Pakistani fighter, competed at "Brave 17" in the featherweight division against "The Eagle" Yibugele of Inner Mongolia, China where the Chinese fighter knocked him out as his win was declared by KO (Punch). While the Pakistani fighter claimed his earlier two triumphs against Samiullah Shahi in Flogger Series by unanimous decision and the other victory over Haroon Durrani in VCL - Spring Mania by KO.
Where as his counterpart from Philippines, Jon Chris "Happy Feet" Corton, 26, would be having his third Brave Combat Federation bout. He holds a professional MMA record of 6-4-0 (Win-Loss-Draw) and is training out of Team Lakay in La Trinindad, Benguet, Philippines.