One more victory for local Pakistani fighter, Furqan "The Lion" Cheema at Combat Challenge (2019)
Cheema's fight against an English counterpart, Andrew 'The Immortal' Connor in Combat Challenge (2019) ended in the first round which declared Furqan the winner at Cedar Court Bradford in United Kingdom.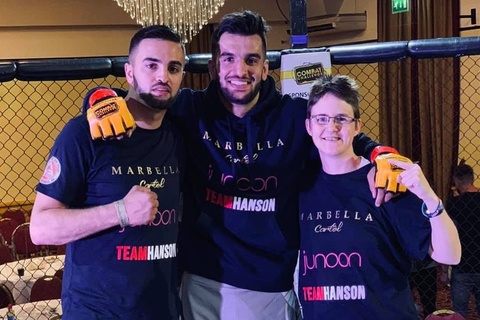 The Combat Challenge professional mixed martial arts bout held in Bradford, West Yorkshire between Furqan Cheema, representing Pakistan against English counter, Andrew Connor, which ended in the first round when local fighter, Cheema got control of Conner against the cage and was able to squeeze a rear naked choke.
To his win Cheema said,
"I got the W which was the key but I'm always going to be critical to myself and I know I have a lot to work on as there things I do good in the gym but need to start showing in my fights but hey every fight will be a learning curve".
Connor came in with a good game plan and gained some success by leg kicks and vicious swings which got a reaction from the crowd but local fighter Cheema managed to overcome the adversity and got the job done.

Cheema thanked his opponent for giving the opportunity to him of this fight and admired the great work he does raising money for charity.
Cheema concluded saying,
"I would like to say a huge thank you to everyone at the Combat Challenge event for contributing money towards the cause and showing my opponent all the respect before and after the fight. This was a fight and I had to do what I had to do but it's a sport and I respected Andrew before and after the fight still do, even more and truly admire the work he does. Andy is a warrior who fights regularly and always risking his health to give all his fight purses in helping the little girl - He is a true gentleman and I've made a friend from this fight."
It is requested that if you would like to contribute to this charity cause, please contact Andrew Connor on Facebook.