Serai Fight Night (SFN) to set fire to the ring tomorrow
This time, the biggest MMA event will be featuring local fighters in Serai Fight Night (SFN) 2019 which is all set to roar into action tomorrow at Serai Bistro, Diplomatic Enclave in Islamabad.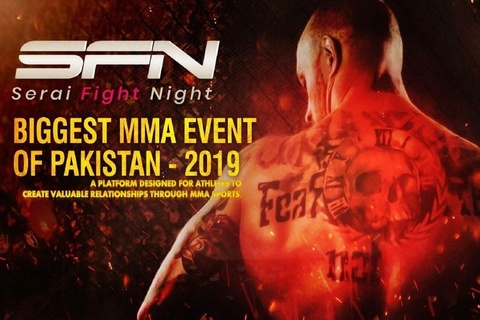 After the successful holding of 1st International MMA Event "Ring of Pakistan" in Lahore, the Team at SFN is inviting the people of Pakistan for an exciting opportunity at SERAI FIGHT NIGHTS; to be part of the event making history.
This event holds immense significance in the community of sports for various reasons as local athletes are being promoted for the very first time and winners would be moving on to become professional fighters to compete in international arenas. SFN has stepped up to support and promote these local fighters in an international manner.
MMA content enjoys high viewership on digital mediums worldwide due to which SFN has signed a contract with Pakistan's leading digital content promoter, ROCKEVILLE Technologies to promote the contender night by SFN.
And for further queries, these given cell phones of SFN can be contacted: 0332-05000092, 0345-5999929 and 0300-8551560.
SFN FIGHTERS