Isb beats Khi Green out of PFF National Inter-City Football Championship 2019 title race
Islamabad crushed Karachi Green by 3-0 in the quarter-final encounter of PFF National Inter-City Football Championship 2019 at Dring Stadium in Bahawalpur.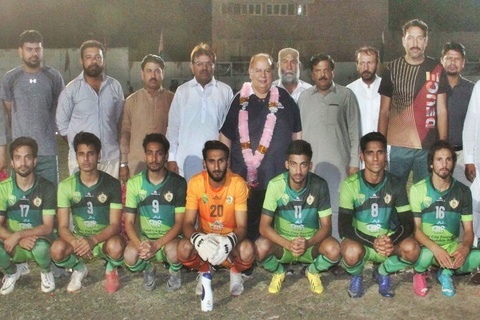 PFF National Inter-City Football Championship 2019
Jinnah Sports Complex, Islamabad
The most recent match into PFF National Inter-City Football Championship 2019 was played between Islamabad and Karachi Green teams in which Islamabad completely dominated the game and whipped out Karachi Green team from the title race of the championship by 3-0 score.
Islamabad team's Mohammad Daniyal scored two goals in the first half while Rooh Ullah added another in the second half to take Islamabad into semi-finals of the championship.
In another quarterfinal game at the same venue, Faisalabad recovered from a goal down to beat Gawadar by 3-1 score, after a thrilling encounter. As Gawadar team suffere a barren first half, Shah Zaman put the team ahead in the 60th minute. Mubashir leveled arrears for Faisalabad with a late goal in the 86th minute.
At the end of the regulation time, the match was tied at 1-1. Just then, Nadeem Ashraf geared Faisalabad ahead in the 94th minute. Mannan scored in the 109th minute to seal 3-1 victory and a place in semi-finals for Faisalabad.
At Divisional Stadium in Multan, Khyber team thrashed Gujranwala boys by 5-0 score with the incredible performance of their star player, Yaseen Mohammad as he scored his brilliant hat-trick. Mohammad Adnan and Ameer Hussain scored one goal each which made it a 5-0 defeat for Gujranwala team.
In the last quarter-final clash, at the same venue, Malakand defeated Quetta 2-0 in extra time after the regulation time ended in a goalless draw. Nazeer Ahmed scored in the 119th minute while Irfan Ullah scored off a penalty-kick in the 120th minute to make Malakand team take home the win of the match.
National Inter-City Football Championship is being organized by Pakistan Football Federation (PFF) which is having matches played in different cities across the country, including Islamabad, Rawalpindi, Sialkot, Muzaffarabad, Gilgit-Baltistan, Peshawar, Dera Ismail Khan, Karachi, Hyderabad, Quetta and Mastung.
This championship offers an attractive prize money of Rs. 4 Lac for the winner team while the runner-ups will get 2 Lac worth of cash pursue. The third position team will be awarded with Rs 1.5 Lac.