Inter-City Football League 2019 qualifying round kicks off today
The qualifying round of Inter-City Football League will kick start from today and will continue till 18th April with matches being played at Jinnah Stadium in Islamabad.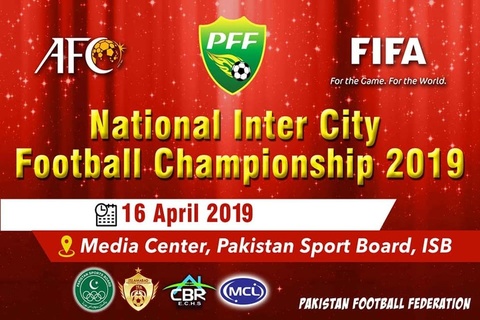 PFF National Inter-City Football Championship 2019
Jinnah Sports Complex, Islamabad
According to the information disclosed by Islamabad Football Association (IFA) Secretary, Syed Sharafat Hussain Bukhari, about three teams will be featuring in this qualifying round which includes: Islamabad Green, Islamabad Red and Islamabad Blue. Muhammad Zaman and Kamran Malil will be the Manager and Coach of Islamabad Green team while Rana Tanveer Ahmed and Jehanzeb will be Islamabad Red team's Manager and Coach. Syed Zakir Hussain and Nasir Jameel will be Islamabad Blues' Manager and Coach.
One team from Islamabad will qualify for the second round and the date and place of second round will be announced later. The inaugural match of this qualifying round will be played between Islamabad Green and Islamabad White teams at 07:00 PM sharp in Jinnah Stadium, Islamabad.
Pakistan Football Federation (PFF) President, Syed Ashfaq Hussain Shah And Vice President, Member National Assembly, Malik Mohammad Amir Dogar will be the guests of honor who will grace the match open.
All Pakistan Inter-City Football League will be organized by Pakistan Football Federation (PFF) and Islamabad Football Association (IFA) which will have the matches played in different cities across the country, including Islamabad, Rawalpindi, Sialkot, Muzaffarabad, Gilgit-Baltistan, Peshawar, Dera Ismail Khan, Karachi, Hyderabad, Quetta and Mastung, the second phase of the tournament.
This league offers an attractive prize money of Rs. 4 Lac for the winner team while the runner-ups will get 2 Lac worth of cash pursue. The third position team will be awarded with Rs 1.5 Lac.